By Miranda Leitsinger CNN





(CNN) -- A former member of Cambodia's genocidal Khmer Rouge regime will be the first from the ultra-Maoist movement to stand trial before a U.N. backed tribunal in late February, the court announced Monday.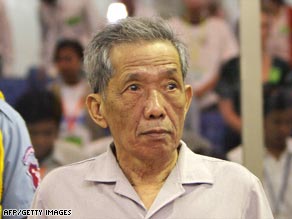 Kaing Guek Eav faces charges of crimes against humanity.
Kaing Guek Eav, known as Duch, faces charges that include crimes against humanity and grave breaches of the 1949 Geneva conventions during the regime's 1975-1979 rule.
He will go on trial in the Southeast Asian country's capital, Phnom Penh, on February 17, the Extraordinary Chambers in the Courts of Cambodia said in a statement.
At least 1.7 million people -- nearly a quarter of Cambodia's population -- died under the Khmer Rouge from execution, disease, starvation and overwork, according to the Documentation Center of Cambodia.
Five of the regime's former leaders, including Duch, are awaiting trial before the tribunal for war crimes and crimes against humanity.
A former teacher, Duch ran the Tuol Sleng prison, a high school converted into a center where people were tortured and killed, in Phnom Penh. He was head of the Santebal, which was in charge of internal security and operating prison camps, according to the Cambodia Tribunal Monitor, a group of academic and nonprofit organizations.
Duch was indicted on August 12, 2008, the group said.
Don't Miss
"Duch has a left a mountain of a paper trail documenting his involvement ... to me it's a really easy case," said Youk Chhang, head of the Documentation Center of Cambodia.
Several years in the making, setting the date of the trial was an "important step," Chhang said.
"It's a small fish ... but I think that at least from a practical perception, things are starting to move now," he said. "Finally, we have a date for hearing."
Chhang said he thinks the regime's victims would "not cheer" yet but wait to see "what judgment the court will deliver to them."
One of Duch's attorneys, Kar Savuth, declined to comment when reached by phone.
E-mail to a friend

All About Cambodia • Khmer Rouge • War Crimes • Genocide