BANGKOK, Thailand (CNN) -- Thailand's Senate will investigate allegations that the country's military abused Muslim refugees fleeing Myanmar, a leading senator said Tuesday, in the latest of several probes into the issue.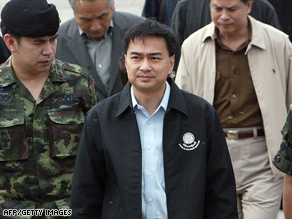 Prime Minister Abhisit Vejjajiva (center) has announced a probe into the treatment of the Rohingya.
Additionally, the U.N. High Commissioner for Refugees (UNHCR) said Tuesday that it had asked the Thai government for access to two groups totaling 126 Rohingya refugees to assess their condition.
"Given the new Thai government's commitment to human rights, we are eager to discuss with Foreign Minister Kasit Piromya ways that this crisis can be defused, the U.N. said in a statement.
The Rohingya are a Muslim ethnic minority from Myanmar's northern Rakhine state, bordering Bangladesh. The UNHCR said there are 28,000 Rohingya refugees in two U.N. camps in Bangladesh, and an estimated 200,000 unregistered Rohingya living there outside of refugee camps.
An Australian tourist, who declined to be named for fear of being barred from Thailand, told CNN that refugees were "whipped" last month by Thai guards on a popular diving resort island in the Similan Archipelago.
Thai news organizations have reported that others had been left for dead or been put back out to sea without food or water. Other reports said hundreds of the refugees had been detained on Sai Daeng island, near the port of Ranong.
The human rights committee of Thailand's Senate will take up the issue Thursday, with officers from the country's army and navy called to answer questions, said Sen. Somchai Sawaengkarn, the panel's chairman.
Don't Miss
Somchai's announcement follows investigations by the military and the government of Prime Minister Abhisit Vejjajiva, who announced a probe into the treatment of the Rohingya after a Monday meeting with human rights groups.
Thailand's Senate is a largely advisory body, with most power lying with the lower house of the country's parliament, the House of Representatives.
A Thai naval spokesman, Rear Adm. Naris Pratumsuwan, told CNN "as a normal practice, if (the) navy finds illegal immigrants, we will hand them over to related authorities, e.g. police or immigration police." Naris said he had not received any information on an island where migrants are being detained.
Meanwhile, Gothom Arya, director of the Mahidol University Research Center for Peace Building, said Tuesday that his organization had examined widely circulated photos of the Rohingya but was seeking firsthand evidence of the claims.
The Rohingya have been fleeing persecution of the hard-line military regime in Myanmar, formerly Burma, for years, and often seek refuge in Malaysia. Ranong is well-known as an entry point to Thailand, both legally and illegally. The fishing and seafood industry draws hundreds of thousands of Burmese workers to generally low-paying jobs.
Boatloads of Rohingya arriving in Thailand is nothing new, but non-governmental organizations are increasingly worried about what they say is an apparent change of government policy. They say the army's Internal Security Operations Command is forcing the Rohingya out to sea rather than deporting them overland back to Myanmar.
E-mail to a friend

-- CNN's Kevin Drew and Kocha Olarn contributed to this report.