By CNN's Harmeet Shah Singh





NEW DELHI, India (CNN) -- India has culled more than 1,000 birds after discovering several cases of avian influenza among poultry in Sikkim, authorities said Thursday.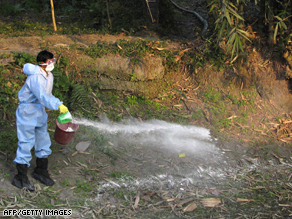 A health worker spreads disinfectant at a village in eastern India on January 7, 2009.
According to India's federal health ministry, health workers have culled 1,139 birds since Tuesday in the northeastern state, which borders Nepal and China.
There have been no reports in India so far of any human infection from the disease, which has also hit the Assam and West Bengal states.
The animal health workers involved in the culling operation are being given preventative treatment to help protect them against the disease, the health ministry said.
Authorities have closed all poultry and egg markets within a 10 km (6 mile) radius of the outbreak, and are culling all birds within a 3 km (about 2 mile) radius, the government said.
Farmers will be compensated for the loss of their livestock, a government statement said.
Federal health officials have been sent to the state to assist state authorities in dealing with bird flu, the health ministry said.
E-mail to a friend