(CNN) -- A Chinese official met with North Korean leader Kim Jong-Il in Pyongyang on Friday, the state-run Xinhua news agency reported.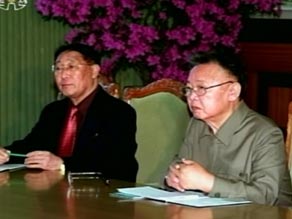 Kim Jong-Il, right, appeared with Chinese official Wang Jiarui.
Kim, 66, has rarely been seen since a reported stroke in August, but he did appear with Wang Jiarui, leader of the International Department of the Communist Party of China, in a series of photographs shown on North Korean television. Kim was noticeably thinner in the photos.

Wang is leading a six-member delegation from China that earlier met with North Korean Prime Minister Kim Yong II and other top officials on strengthening economic ties between the the secretive state and its closest ideological ally.
Wang also delivered a letter to Kim from Chinese President Hu Jintao on Friday, North Korea's state news agency reported, according to the South's Yonhap news service.
E-mail to a friend

All About China • North Korea • Kim Jong-il