From Kyung Lah





TOKYO, Japan (CNN) -- Japan executed four convicted killers on death row Thursday, the government said, marking the first set of executions in the country since October 2008.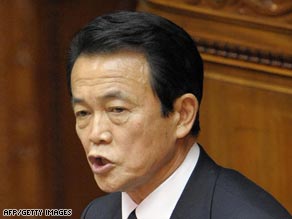 Japanese Prime Minister Taro Aso has to sign execution certificates before the death penalty can be carried out.
All four men were hanged, Japan's primary method of execution, the Justice Ministry said. The ministry identified the inmates a 58-year-old Tadashi Makino, convicted of killing four women in separate home invasion robberies, 44-year-old Yukinari Kawamura and 39-year-old Tetsuya Sato, both convicted of killing two women and burning their bodies in steel barrels and 32-year-old Shojiro Nishimoto, convicted of killing four people in separate home invasion robberies.
The executions represented blatant human rights violations, said Amnesty International spokesman Makoto Teranaka.
"Japan is going against the rest of the world by increasing the pace of executions, at a time when other countries are slowing their pace."
Japan's death penalty policy has not seen any major public opposition and few protest these executions. To that, Teranaka said: "The Japanese government's explanation was that public opinion favored the executions of these men. We are angry that they choose public opinion over human rights. To form a balanced public opinion is the government's responsibility."
Japan executed 15 inmates in 2008 and 95 more currently sit on death row. Japan's rate of executions since August 2007 has been approximately one execution every two to three months.
The nation experienced an informal moratorium on capital punishment when Seiken Sugiura, Justice Minister from 2005 - 06 under Prime Minister Junichiro Koizumi, publicly stated he would not sign the execution orders, based on his Buddhist beliefs. Japan's justice minister needs to sign off on the execution certificates for the death penalty to be carried out.
According to Amnesty International, 59 nations still allow the death penalty for what the organization calls "ordinary crimes." The group describes "exceptional crimes" as those committed in circumstances such as war.
The vast majority of executions occur in a handful of nations: the United States, China, Iran, Pakistan and Saudi Arabia, Amnesty International said.
E-mail to a friend