(CNN) -- An Australian man has been charged with murder after witnesses said he threw his four-year-old daughter from a busy bridge in Melbourne.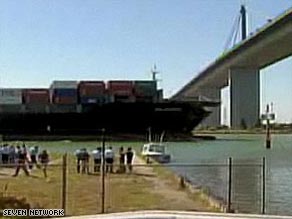 Television footage from the scene reveals how far the girl fell from the bridge.
Melbourne police said in a statement that a marine unit found the girl, Darcey, in the water under the Westgate bridge about 9.30am Thursday.
Emergency services tried to revive her for 50 minutes and she was airlifted to a nearby hospital, but she died after suffering multiple internal injuries.
Witnesses told police they had seen a man driving along the inbound lane of the Westgate freeway when, near the top of the bridge, he pulled over and threw a young child over the side.
CNN's Australian affiliate, Seven Network, reported the girl had fallen 58 meters -- equivalent to 17 storeys. It said the bridge was the highest in the city.
Her father, Arthur Freeman, 35, then returned to his car -- where his two sons remained -- and drove into the city.

Watch more on this story »
His vehicle was found there about 90 minutes later and he was arrested nearby, Seven Network reported.
Police said Freeman was in an "agitated state" and later described him as being in an "acute psychiatric state."
He did not appear in Melbourne Magistrates Court when he was charged over the death.

His lawyer, Elanor Peattie, told the Melbourne Age newspaper that she was unable to take "detailed instructions" from Freeman.
His wife and two sons were receiving counseling.
E-mail to a friend