SEOUL, South Korea (CNN) -- North Korea said Friday it has nullified all political and military agreements with South Korea, an extreme move that could raise tensions between the neighbors and lead to a military clash, South Korean state-run media reported.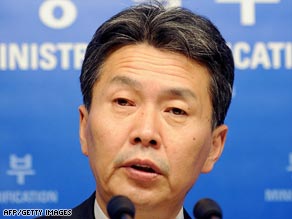 Kim Ho-nyoun, South Korea's Unification Ministry spokesman, said the move was "not desirable."
Leaders in South Korea expressed "deep regret" for North Korea's threat and advocated for more dialogue and cooperation, according to a government statement.
The Yonhap news agency reported that North Korea's Committee for the Peaceful Reunification of Korea called South Korean leaders "traitors" and said they have already violated all agreements between the two.
Because of that, the committee believed that North Korea did need to adhere to any of the agreements, the agency reported.
The move could trample a "a landmark accord that the Koreas reached in 1991 to prevent military clashes and boost reconciliatory efforts," Yonhap reported.
Many of the agreements were on maritime boundaries.
South Korea's military was on high alert after the statement, but no unusual activity was spotted, the agency reported.
"We hope that North Korea fully understands that raising tension between the South and the North is not desirable for settling peace on the Korean peninsula," Kim Ho-nyoun, South Korean spokesman for the Unification Ministry said in a statement.
E-mail to a friend

CNN's Kathy Paik contributed to this report.