(CNN) -- United Nations aid workers rescued 50 critically injured children from intense fighting in Sri Lanka Thursday, another example of the major humanitarian crisis unfolding in the area, a spokesman said.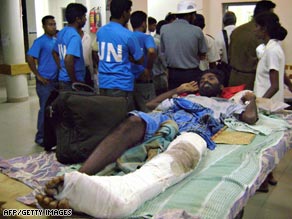 A civilian, injured during fighting in rebel territory, lies on a bed at a hospital in Vavuniya.
"There is just intense fighting in a small area where children and other civilians are," said James Elder, a U.N. spokesman. "We are trying to get as many people out of there as we can."
Humanitarian groups have said that as many as 250,000 unprotected civilians are trapped in the crossfire between government troops and rebel forces in northern Sri Lanka.
Sri Lankan soldiers seized a key rebel stronghold in a surprise attack Sunday, even as humanitarian agencies feared for the safety of civilians

The Liberation Tigers of Tamil Eel -- commonly known as the Tamil Tigers -- have fought for an independent homeland for the country's ethnic Tamil minority since 1983. The civil war has left more than 70,000 people dead.
U.N. Secretary-General Ban Ki-moon also has called for the safety of civilians as humanitarian groups try to provide aid to people trapped in the region.
E-mail to a friend

All About Liberation Tigers of Tamil Eelam • Sri Lanka • Ban Ki-moon • United Nations