(CNN) -- Authorities in the Philippines managed Tuesday to drive back to sea a pod of about 200 dolphins that had swarmed to shallow waters in Manila Bay.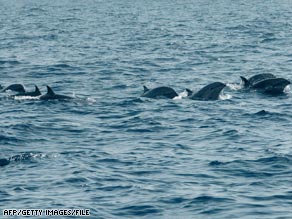 A pod of dolphins swims across the Bohol Sea in January 2005.
The government was patrolling the beach area to see whether the melon-head dolphins would return, said Malcolm Sarmiento, director of the Philippines' Bureau of Fisheries and Aquatic Resources.
The dolphins were spotted Tuesday morning about a mile offshore near the townships of Pilar and Orion in Bataan province, he said. Volunteers and rescue workers kept them from beaching and used about 20 boats Tuesday afternoon to push them back toward deeper waters.
"What impressed me most with this situation is that the local fishermen played a major role in preventing the mass group from getting on the beach compared to the past, when they have killed the dolphins for food," Sarmiento said. "Through education and cooperation efforts, they worked very hard to push them back into the wild."
Don't Miss
Sarmiento said it was the first time he could remember that so many dolphins entered the bay. He said authorities were trying to figure out what caused the strange behavior.
The dolphins may have headed toward the bay for two reasons: moving away from an underwater quake, which could have injured their eardrums, or following a sick or wounded leader, Sarmiento said.
E-mail to a friend

CNN's Christabelle Fombu contributed to this report.
All About Philippines