(CNN) -- Wildfires that scorched much of southeastern Australia this month now threaten part of the country's water supply, even as the fires' death toll has risen to 200, officials said.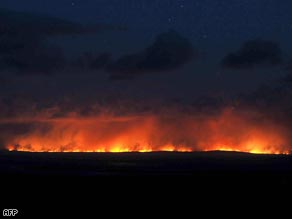 A wildfire hits Wilson's Promontory National Park southeast of Melbourne Saturday.
Fires that continue to burn near some major reservoirs in the region imperil the quality of billions of liters of water, according to Australian television station 9 News.
Firefighters are scrambling to protect the reservoirs near Melbourne as government officials plan to ship billions of liters of water from other areas, the station reported.
The death toll from the fires continues to rise as authorities search through debris and medical experts review remains.
The fires have destroyed more than 1,800 homes and displaced about 7,000 people.
The number of fires burning had dropped to six, from about a peak of about three dozen, the Country Fire Authority said this week.
A suspect, 39-year-old Brendan Sokaluk, has been arrested on suspicion of setting one of the fatal fires. iReport.com: Fire survivor documents destruction of neighborhood
Don't Miss

Sokaluk is suspected of lighting a fire on February 7. He has been charged with arson causing death, intentionally or recklessly lighting a bush fire, and possessing child pornography, Victoria state police said.
The fire Sokaluk is accused of setting killed at least 21 people in Gippsland.
E-mail to a friend

All About Australia