(CNN) -- Zhang Xin is a billionaire property magnate, has been named one of the world's most powerful women and has played a large role in transforming Beijing's architectural landscape.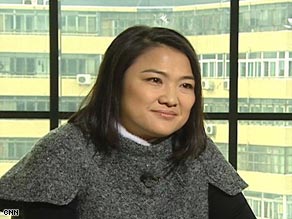 Zhang's company Soho China is transforming whole areas of the Chinese capital.
At 43, Zhang has made a name for herself bringing hip, urban architecture to Beijing's previously gray and drab skyline, and making a lot of money while at it.
She co-founded her property development company Soho China -- which stands for Small Office, Home Office -- with her husband Pan Shiyi in 1995. When it went public in 2007, it had raised $1.9 billion.
Wealthy, stylish and dynamic, Zhang and Pan are the embodiment of middle-class Chinese aspirations of wealth and success.
However, Zhang's own path to success includes an itinerant childhood and working in a Hong Kong sweatshop when she was only 14 years old.
Zhang's parents came from a long line of Chinese immigrants who lived in Burma but moved back to Beijing, taking jobs in the Bureau of Foreign Languages. They later separated when Zhang was only 5 years old. Zhang and her mother relocated regularly until they finally settled in Hong Kong. Zhang, then aged 14, worked in a garment factory, while learning English at a secretarial college.
Show times
Wednesday, Mar 4: 14.30 GMT (22.30 Hong Kong)
Thursday, Mar 5: 04.00; 18.00 GMT (12.00; 02.00 Hong Kong)
Saturday, Mar 7: 17.30 GMT (01.30 Hong Kong)
Sunday, Mar 8: 03.30 GMT (11.30 Hong Kong)
Monday, Mar 9: 03.00 GMT (11.00 Hong Kong)
Tuesday, Mar 10: 19.30 GMT (03.30 Hong Kong)

She managed to get a scholarship to study economics at the University of Sussex in England and went on to gain a masters degree from Cambridge. Head-hunters from an investment bank offered her a job on Wall Street where Zhang worked until 1994, when the lure of being part of China's rapid transformation and economic boom became too great.

Watch Zhang speak abouth the Beijing property market »
She returned to Beijing where she met Pan and joined Vanatone in 1995, the property company he co-founded. The pair set up their own company that became Soho China and have since embarked on a number of projects -- One of their first was a boutique hotel by the Great Wall of China.
Since then, Zhang has fostered her passion for architecture and design and invited a number of internationally renowned architects and artists to work with them, including Riken Yamamoto, Patrick Schumacher and Ai Weiwei.

Soho China's Jianwai project in Beijing's Chaoyang district was completed in 2007. The mix of business and residential towers has transformed a previously run-down and depressed area in the east of the city into one of its most appealing areas for young aspiring professionals.
Last year, Forbes listed Zhang as #19 on their list of the 400 richest Chinese, with a net worth of $1.21 billion. Even in the current tough economic climate, Zhang and Soho China have a bright outlook for 2009 and beyond.
E-mail to a friend