(CNN) -- Military officials from North Korea and the U.S.-led U.N. Command held their first high-level talks in nearly seven years Monday.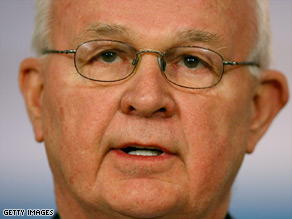 U.S. envoy Stephen Bosworth is heading for the region to jump-start disarmament talks with North Korea.
The talks inside the Demilitarized Zone separating North and South Korea lasted just 32 minutes. But the U.N. command deemed them a positive step toward reducing tensions that have been escalating in the region in recent months.
"North Korea requested this meeting to discuss tension reduction on the Korean Peninsula," the U.N. Command said in a statement. "These talks can be useful in building trust and preventing misunderstanding, as well as introducing transparency regarding the intentions of both sides."
The U.N. Command is expected to later release details of the meeting, held in the village of Panmunjom.
The talks come at a tense time as North Korea is trying to restart its nuclear facilities and amid reports that the communist nation is preparing to test-fire its long-range missile, the Taepodong-2, under the guise of launching a satellite into space.
Also, rapprochement talks between North and South Korea have hit a wall since conservative South Korea President Lee Myung-bak took office and took a tougher stance toward the North than his liberal predecessor Roh Moo-Hyun.
The two countries have technically remained in a state of war since the Korean War ended in 1953, although relations have warmed somewhat in the past few years. The Korean conflict ended in a truce, but no formal peace treaty was signed.
U.S. Secretary of State Hillary Clinton is dispatching her new envoy to North Korea, Stephen Bosworth, to the region this week to try to jump-start disarmament talks with North Korea.
Bosworth has said there is no doubt the United States plans "to engage with North Korea."
E-mail to a friend

All About Stephen Bosworth • North Korea • Kim Jong-il • Hillary Clinton