(CNN) -- Former England batsman Chris Broad has emerged as a hero after the armed ambush in Pakistan that killed seven people and wounded eight Sri Lankan Test cricketers.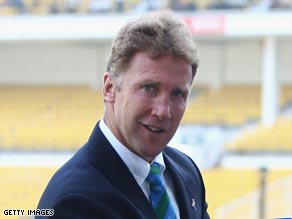 ICC match referee Broad shielded the fourth umpire who is critical after being shot during the ambush in Lahore.
International Cricket Council match referee Broad, whose son Stuart is currently touring the West Indies with England, was among officials traveling in a minibus immediately behind the Sri Lankan squad in Lahore.
As their vehicle also came under attack, the 51-year Broad used his body as a shield to protect fourth umpire Ehsan Raza who had been shot and is now reportedly in a critical condition in hospital.
A dozen masked gunmen attacked the convoy close to the Gaddafi Stadium where day three of the second Test against Pakistan was due to take place.
"My dad saw things that he never expected to see and he never wants to see again," Broad junior told PA Sport en route with the England team to Trinidad from Barbados.
"It was dreadful. I spoke to him in the early hours of this morning and he was obviously very shook up by it all. It has obviously been really heart-breaking for him."
The 22-year-old Broad added: "He is safe and well and looking forward to getting back to the UK.
"Not just for my old man, but for the whole of the Sri Lankan side, it is a dreadful thing to have happened.
"Luckily none of them got seriously injured and they've escaped okay. It is just an horrific incident and we all feel for them because we can sort of relate to the situation.
"Obviously our condolences go out to the families and loved ones who lost people in the incident."
Broad senior, who played for England in Lahore back in 1987, became an ICC Test officials six years ago.
Former Middlesex and Kent wicketkeeper Paul Farbrace, now assistant coach of Sri Lanka, was among those hurt by shrapnel as they lay on the floor of the team coach.
"I exchanged text messages this morning with him," the England and Wales Cricket Board's Hugh Morris told media. "Thankfully he is okay.
"Paul used to work for the ECB for 10 years or so, so we're very close to people involved and our players obviously play against the Sri Lankan players on a regular basis.
"Our thoughts go out to everybody that was caught up in the attack, particularly those who were injured, and the families of those that were killed.
"It was just a shocking day for everybody, particularly those that are involved in cricket."
The attack has sent shock waves around the sporting world and raised fears about the future of international cricket matches, including the 2011 World Cup, in Pakistan.
Pakistan, which is battling Islamist and Taliban insurgents in its North West Frontier Province, has struggled to attract visiting cricket teams in recent years because of security concerns.
The current Test series with Sri Lanka is the Pakistani team's first since touring India in 2007.
Pakistan captain Younus Khan believes his team had a lucky escape telling PA Sport: "We normally leave together, but today we were delayed and the Sri Lankan team went ahead of us. It would have been catastrophic had both buses gone together."

Younus spoke to a number of the Sri Lankan players after the incident. "They were courteous and took the incident in their stride. They merely termed it 'a bad experience' and they have no ill feeling towards this country," said the 31-year-old.
"This is a deplorable act and it's completely unacceptable."
E-mail to a friend