By Saeed Ahmed





(CNN) -- Cricket has long been considered the gentleman's game -- a sport in which the tenets of fair play and respect for authority are so revered that it introduced a colloquialism to describe something unacceptable: "It's just not cricket."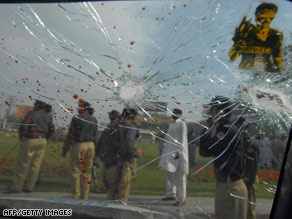 Police gather beside the wreckage of a police van in Lahore, Pakistan, following Tuesday's attack.
Cricket fans around the world found themselves shaking their heads and muttering just that Tuesday morning, after gunmen in Pakistan opened fire on a bus carrying members of the Sri Lankan national team on their way to a stadium for a match.
At least seven police officers and a driver were killed and at least eight members of the Sri Lankan team were wounded in the well-coordinated attack in the eastern city of Lahore.
No one immediately claimed responsibility.
"The sport that was so important that it helped usher the thawing of tense India-Pakistan relations, the sport that finally led the UK to join the rest of the world in embargoing South Africa during apartheid, it just lost its innocence today," said Razab Chowdhury of Fremont, California.

Watch how cricket is a national obsession in Sri Lanka »
Chowdhury, a management consultant, moderates the popular cricket Web site Banglacricket. Across the world, cricket fans expressed similar shock and dismay to find their beloved sport -- with its quaint traditions of white clothing and breaks for tea -- hijacked by a violent political reality.
Teams have long stayed away from Pakistan, concerned about the security situation in a country that is battling an escalating pro-Taliban insurgency.
Sri Lanka agreed in December to visit for a series of matches, after the Indian cricket team called off its tour following the deadly terror attacks in Mumbai in November. Indian authorities blamed the those attacks on Pakistan-based militants.
At the time, the Pakistan Cricket Board said it was set to lose more than $16 million as a result of India's cancellation. The Sri Lanka visit would help it recoup most of the costs, officials said.
"I think this confines Pakistan to the international backwater for cricket," said Paul Ford of Wellington, New Zealand.
Don't Miss
Ford co-founded the Beige Brigade, whose members follow and cheer on the New Zealand team during its matches at home and abroad.
"Teams are just not going to go there. And that's unfortunate, because it's a game with a large following in Pakistan."
The attack will rob Pakistan of co-hosting the 2011 World Cup, fans said. And the repercussions of that go beyond a love for the game for Pakistanis, said Adnan Ali of Lahore.
"Cricket is something that is a part of us," said Ali, a college professor. "If you go across Pakistan, even to areas which we consider to be somewhat unsafe, you still see people playing cricket with stick and balls."

Ali said the team's successes in the international area united Pakistanis of different backgrounds and beliefs.
"For many of us, it was the only thing of hope in this country," he said. "The attack has robbed us of that."
E-mail to a friend