From Mukhtar Ahmad





SRINAGAR, Indian-controlled Kashmir (CNN) -- Indian police and paramilitary troops placed a large section of Srinagar under strict restrictions Saturday in hopes of thwarting further violence in the summer capital city of Indian-controlled Kashmir.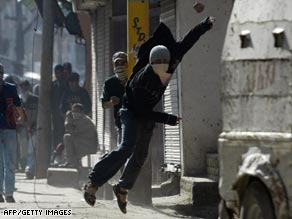 Protesters have clashed with Indian troops and police regularly in Srinagar.
Authorities have restricted movement in Srinagar's Old City, which comprises a large portion of the city, and there was heavy security.
Central Reserve Police Force troopers carrying automatic weapons have barricaded the main roads and intersections in the Old City to prevent the movement of civilians and traffic.
"No movement is being allowed in our area. There is heavy presence of police and CRPF troops," Mohammad Ayub, an Old City resident, said.
The area was rocked Friday by protests and violent clashes, which left a 20-year-old dead and scores of others wounded.
Friday's protests were triggered after congregational prayers earlier in the day that demanded the release of separatist leaders jailed under the state Public Safety Act (PSA). Under the act, a person can be held for two years.
The separatist leaders were detained during the last year's land row agitation, which engulfed all of Indian-administered Kashmir. The area became divided on communal lines, and violence left about 45 people dead and more than 1,000 wounded.
Despite Saturday's restrictions, angry youths braved heavy police and paramilitary forces on the streets in one part of the Old City. The youths shouted pro-independence slogans and later clashed with security forces, who responded by firing teargas and used batons to disperse them.
A senior police officer said a youth who was injured in Friday's confrontation was now in stable condition. The police officer said the situation was "under control," although it was still tense.
A senior separatist leader, Mirwaiz Moulvi Omar Farooq, alleged that "New Delhi has handed over the reins of Kashmir to its troopers, who have unleashed a reign of terror on the people."
Kashmir, a Muslim-majority region divided between India and Pakistan and claimed by both, has been wracked by an 18-year bloody separatist campaign that authorities say has left at least 43,000 dead.
Human rights groups and non-governmental organizations put the death toll at more than twice the official figure.
E-mail to a friend