(CNN) -- U.S. envoy Stephen Bosworth said Saturday he wanted dialogue with North Korea but also spoke against the communist nation's move to launch a long-range missile, South Korea's Yonhap news agency reported.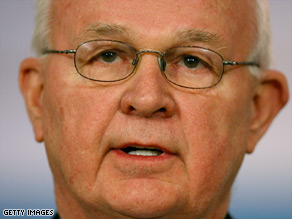 U.S. envoy Stephen Bosworth traveled to Asia to jump-start disarmament talks with North Korea.
U.S. Secretary of State Hillary Clinton's envoy to North Korea did not give specifics on how the dialogue would take place and said he did not plan to travel to North Korea, the agency reported.
Bosworth spoke to reporters after arriving at the Incheon International Airport, near Seoul, part of his four-day trip to the region, according to Yonhap.
Just this week, military officials from North Korea and the U.S.-led U.N. Command held their first high-level talks in nearly seven years.
Those talks and Bosworth's statement come at a tense time, when North Korea is trying to restart its nuclear facilities and amid reports it is preparing to test-fire its long-range missile, the Taepodong-2, under the guise of launching a satellite into space.
At a news conference Saturday, Chinese Foreign Minister Yang Jiechi said China has taken note of North Korea's announcement and other nations' responses.
"We express concern about the events related," Yang said of North Korea's expected missile test launch.
Don't Miss

On Friday South Korean commercial airlines rerouted their planes after North Korea said it could not guarantee the safety of flights near its airspace, fueling concerns of an imminent missile launch.

Watch Asiana's reaction to North Korea's statement »
Bosworth called the reported attempt to launch a long-range missile "ill-advised," Yonhap reported.
E-mail to a friend

All About Stephen Bosworth • North Korea • Hillary Clinton