From Sohn Jie-Ae
CNN





SEOUL, South Korea (CNN) -- North Koreans cast ballots Sunday in parliamentary elections watched by outside observers for hints of who might eventually succeed leader Kim Jong-Il.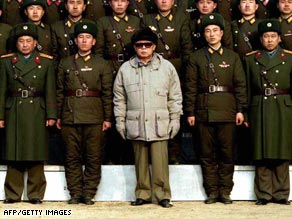 North Korea's reclusive leader Kim Jong-Il
Kim secured his seat -- known as constituency 333 -- after winning every vote, the country's central election committee said in a statement.
The win affirms that the 67-year-old leader is firmly in control of the nuclear-armed nation despite a reported stroke in August.
But with Kim's recent health scare, analysts were looking for signs of whether he was ready to groom one of his sons as an heir to the world's only communist dynasty.
Kim's third son, 26-year-old Jong-Un, has been cited as a possible successor. And he could be running in this election. The secretive nation shields its internal affairs from international scrutiny.
But Kim has two other sons, both of different mothers, and they were believed be vying for power.

Watch more on election »
Each of the 687 districts in the country are fielding one candidate.
In the last election for seats in the Supreme People's Assembly, 99.9 percent of the eligible population voted.

The latest elections come at a time when North Korea is trying to restart its nuclear facilities and amid reports it is preparing to test-fire its long-range missile, the Taepodong-2, under the guise of launching a satellite into space.
The United States has called the reported attempt to launch a long-range missile test "ill-advised."
E-mail to a friend

All About North Korea • Kim Jong-il