WASHINGTON (CNN) -- Suraya Pakzad still receives death threats for teaching women how to read and write in Taliban-controlled parts of Afghanistan.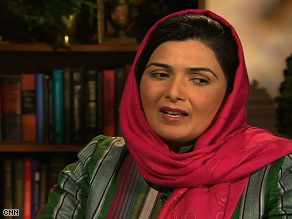 Suraya Pakzad tells CNN any deal between the U.S. and Taliban moderates should consider women's concerns.
"[When] I go to the office I don't use the same way ... every day," she told CNN's Carol Costello. "I cannot share my schedule even with my friends, with my staff and even sometimes I'm not secure talking on phone."
Pakzad is one of several Afghan women's rights advocates who are in the U.S. capital this week to address a move the Obama administration is considering: reaching out to Taliban moderates in an effort to bring peace to Afghanistan.
She took part in a hearing on Capitol Hill -- sponsored by Sens. Mary Landrieu, D-Louisiana, and Richard Lugar, R-Indiana -- titled "Women Shaping Afghanistan's Future."
Last weekend, President Obama told The New York Times that he is willing to talk to some members of the Taliban.
Vice President Joe Biden said Tuesday that he agreed with a recent assessment by Special Envoy Richard Holbrooke that only about 5 percent of the Taliban is "incorrigible, not susceptible to anything other than being defeated."
"It is worth engaging and determining whether or not there are those [in the Taliban] who are willing to participate in a secure and stable Afghan state," he said.
But Pakzad wants U.S. lawmakers to put women's rights at the forefront of any deal with Taliban moderates. She warned that the negotiations described by Obama and Biden could threaten the hard-won gains in women's rights in Afghanistan over the past seven years.
"It makes me scared and everybody has the fear that one day [the Taliban] will be back again," Pakzad said.

Watch Pakzad describe what females face in Afghanistan »
Pakzad, a mother of six, founded a secret organization in 1988 to provide Afghan women with shelter from domestic violence and to teach them to read. The Taliban advocate a strict interpretation of Islamic law, or sharia, that denies women basic rights, including an education.
When the Taliban were driven from power in 2001, Pakzad's Voice of Women Organization emerged from secrecy to expand its efforts to give women rights in the home, schools, the workplace, and the legislature.
She was recognized for her efforts last year when she was awarded the 2008 International Women of Courage Award.
Secretary of State Hillary Clinton will bestow the honor on eight other women on Wednesday, including Wazhma Frogh, an Afghan woman who heads Global Rights, which fights against domestic violence, marital and child rape, and sexual abuse in Afghanistan.
By one measure, Pakzad and other women's rights groups have succeeded beyond their wildest dreams: The government in Kabul says 2 million girls now attend school in Afghanistan.
But even now, women are still targets of domestic violence, and Afghan girls have been attacked for attending school. During her confirmation hearings, Clinton condemned one brutal attack in which men on motorcycles threw acid on two schoolgirls in November.
"This is not culture," Clinton said. "This is not custom. This is criminal."

Pakzad expresses hope that Clinton and other members of the Obama administration will raise those concerns when moving forward with any policy of negotiating with the Taliban. She said she hopes that one day, Afghan women will secure the same rights that American women have achieved.
"My hope for my daughters, for the next generation ... is that they should enjoy their freedom," she said. "[I] hope they have a country free of inequality, free of violence against women, and hopefully they will get that opportunity."
E-mail to a friend

CNN's Bob Ruff contributed to this report.
All About Afghanistan • The Taliban • Women's Issues • Barack Obama