By Kyung Lah
CNN






Editor's note: We're pleased to announce that this report from Kyung Lah in Hokkaido won the Asia-Pacific Broadcasting Union's 2009 Award for Climate Change reporting.
HOKKAIDO, Japan (CNN) -- Having lived in California, the sound of the ocean is one that is synonymous with calm, peace and of course, vacation.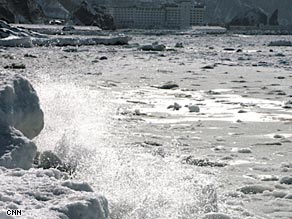 Winter ice from the Arctic isn't staying frozen off the coast off Hokkaido.
But standing at the coast of Japan's northern island of Hokkaido, I got a re-education of what the sound of waves breaking mean to the residents of this region.
"That may sound nice," says Masaki Hataya, "but that means the earth is in trouble."
Hataya is an ice guide for tourists. He walks visitors across ice that flows down each winter from the Arctic. It forms a thick layer along the shore and gives visitors a rare opportunity to walk atop Arctic ice.
But Hataya says the ice is disappearing, melting in Japan's warmer waters and temperatures, and replaced by the sound of the crashing waves of warmer water. He blames global warming.
Captain Chikara Iwata echoes the same concerns. Iwata operates this ice cutter that takes tourists into the heart of the Arctic ice drift. It takes longer to get there every year.
"The air is warmer and temperatures are up," says Captain Chikara. "This is global warming."
Locals hope to turn back time by dialing back their thermometers. Hotel owner Shigeyuki Kawajima organized nearly every single business in the area to turn down the heaters by two degrees.
Kawajima's hotel, the Shiretoko Grand Hotel, gives guests hot water bottles filled with naturally hot spring water instead to stay warm under the sheets.
Local businesses also save their cooking oil which will run city buses in the summer.
"Small steps," says Kawajima, "but our scientists say we saved the equivalent of 21 tennis courts of ice last year."
While admirable, leading scientists say that may do little to stop the Arctic ice retreat.

"To the best of my knowledge and judgment, there is very little that we can do," says Columbia University's Peter Schlosser of the Earth Institute.
"We would have to do something extremely dramatic and even then, the question is whether we could turn it around in time before it disappears. The question for me is rather can we re-grow it once it disappears."
E-mail to a friend

All About Nature and the Environment