(CNN) -- Beijing has high expectations for U.S. President Barack Obama's economic recovery strategy, but worries remain about the safety of China's assets in the United States, Premier Wen Jiabao said on Friday.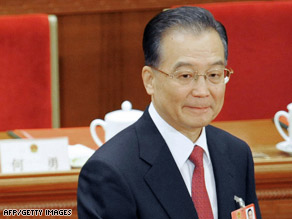 Wen: "We are concerned about the safety of our assets."
Speaking to reporters following the end of the National People's Congress, Wen remained committed to Chinese government projections forecasting 8 percent growth in 2009.
But Wen tied those growth forecasts to concern over China holding vast amounts of U.S. government debt.
"We have loaned a huge amount of money to the United States," Wen said at a news conference in Beijing. "Of course, we are concerned about the safety of our assets. To be honest, I'm a little bit worried. I would like for you [a Western reporter] to call on the United States to honor its word and stay a credible nation and ensure the safety of Chinese assets."
He noted that Obama "has introduced a host of steps to tackle the international financial crisis" and said he has "high expectations" for those steps.
The premier said that although China has purchased "a huge amount" of foreign-exchange reserves, the country has tried to fend off risks by purchasing diversified interests as the economic crisis has gripped the world.

Watch more from Wen's news conference with international media »
China has an estimated $2 trillion in foreign reserves and is the United States' largest creditor, having bought more than $1 trillion of its debt.
Wen outlined a $585 billion stimulus plan for China, calling it "a massive government investment." It will be "mainly for projects that include people's well-being," -- technological upgrades, environmental protection, increased farm subsidies, infrastructure and housing projects, including improved housing for people living in shanty towns, he said at the annual session, during which he answered questions from reporters for about two hours.
The premier reiterated projections that China's economy will grow by 8 percent in 2009, despite doubts expressed by domestic and international economic analysts. Some have forecast growth as low as 5 percent.
Don't Miss
"I will admit it will be a difficult job [to reach 8 percent]. This being said, I also believe with considerable efforts it's possible for us to obtain this goal," Wen said.
He said it would be possible because China is accelerating its urbanization and industrial development, is working on increasing consumer consumption, and is not struggling with financial liquidity.
China has kept a close watch for social instability as unemployment has surged. The global economic crisis has sapped demand for Chinese exports, forcing an estimated 10 million migrants out of jobs and back to rural areas.
Wen acknowledged that "the unemployment issue is a very serious one," but said China had taken steps to stimulate the economy. Priorities include developing more small and medium-size enterprises, he said, because they create 90 percent of jobs.
"We have developed specific policies for migrant rural workers and college graduates," he said, but need to ensure their implementation.
Asked about Tibet, Wen said, "The Tibet situation is on the whole peaceful and stable." Then he went on to call the Dalai Lama a liar.
"Several days ago, the Dalai Lama tried to rebut Chinese statements and said he's never asked the government to withdraw troops or remove Han ethnic groups. These are sheer lies," he said.
"These are all written words on paper. Of course, the Dalai Lama can change his quotes. But he can never deny what he already said," Wen added, referring to a peace proposal the Dalai Lama made in 1988.
China's policy toward the Dalai Lama is clear, the premier said: As long as he's willing to give up his separatist stance, the door is open. But the Dalai Lama must show "sincerity," Wen said.
"We always say the Dalai Lama is not a simple religious figure. He's actually a political exile," running an illegal government from abroad, the premier said. He added that, "The Dalai Lama has been traveling around the world and he's quite capable of misleading ... and being used by other countries."
China accuses the Dalai Lama of fomenting the discord in his homeland -- a charge he denies. The Dalai Lama has said he does not advocate violence or a separate and independent Tibet. He has said he wants a genuine autonomy that preserves the cultural heritage of the region.
Tibetan Buddhists say they resent the slow erosion of their culture amid an influx of Han Chinese, the largest ethnic group in China. That resentment spilled over last March during violent unrest in the regional capital, Lhasa, on the 49th anniversary of the failed uprising that led to the Dalai Lama's exile.

Watch a recent history of China and Tibet »
China has faced growing international pressure regarding its governing of Tibet. But countries such as the United States also need China's cooperation on trade and security issues, including the possibility of a North Korea armed with nuclear weapons.

Asked about the communist nation, Wen said the key was resolving key issues in six-party talks involving North and South Korea, China, Japan, Russia and the United States.
"Only then can we maintain security in southeast Asia as a whole," Wen said.
E-mail to a friend

All About China • United States • Economic Issues