SEOUL, South Korea (CNN) -- Japan said Friday that it could shoot down the satellite that North Korean officials said they plan to launch.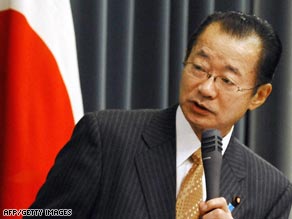 Japan's Chief Cabinet Secretary Takeo Kawamura says it has the right to shoot down the satellite.
"Japan is legally able to shoot down the object to secure safety if it looks like it will fall on to Japan," Chief Cabinet Secretary Takeo Kawamura said during a news conference.
North Korea had informed an international organization that it plans to launch a satellite. Yonhap, South Korea's state-sponsored news agency, said the launch was slated for April 4 to 8.
The announcement has triggered international consternation. U.S. and South Korean officials have long said the North is actually preparing to test-fire a long-range missile under the guise of a satellite launch.
The missile, Taepodong-2, is thought to have an intended range of about 4,200 miles (6,700 kilometers), which -- if true -- could give it the capability of striking Alaska or Hawaii.
A U.N. Security Council resolution in 2006 banned North Korea from conducting ballistic missile testing. Japanese officials said they could shoot down the object whether it is a missile or a satellite.
Don't Miss

"As the U.N. resolutions prohibit (North Korea) from engaging in ballistic missile activities, we still consider it to be a violation of a technical aspect, even if (the North) claims it is a satellite. We will discuss the matter with related countries based on this view," said Japanese Foreign Minister Hirofumi Nakasone.
Japan's Prime Minister Taro Aso added: "No matter what they call it, a satellite or anything, it will violate U.N. Security Council Resolution. We must lodge a stern protest through the U.N. and strongly demand it be called off."
E-mail to a friend

CNN's Junko Ogura contributed to this report.
All About North Korea • South Korea • Hillary Clinton