TOKYO, Japan (CNN) -- Two Japanese destroyers set sail Saturday on an anti-piracy mission off Somalia, the Japanese defense ministry said, marking the first policing action for the country's Maritime Self-Defense Force.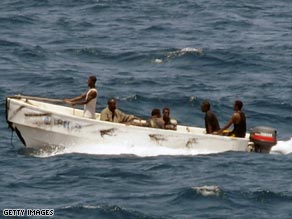 Pirates are caught on camera off the Somalian coast.
Because of restrictions in Japan's constitution, the nation's military is limited to a "self-defense" role.
The Japanese Cabinet approved the mission Friday. The MSDF's major overseas missions have focused on background support, such as transport and refueling, Japan's Kyodo news agency said.
MSDF members aboard the destroyers may fire warning shots if they encounter pirates. However, under Japanese law they are not allowed to harm the pirates except in self-defense, Kyodo reported.


View an interactive map of 2009 pirate attacks off the Horn of Africa »
The Japanese government submitted an anti-piracy bill to the Diet, Japan's parliament, on Friday which would provide the MSDF more latitude against pirates. It would allow the MSDF to fire on boats that close in on commercial ships after repeated warnings, Kyodo reported.
The bill would also enable the MSDF to protect any ship, including those without a Japanese connection -- a provision government officials say is needed to fulfill Japan's international obligations, Kyodo said.
Don't Miss
Japan Coast Guard officers are aboard the destroyers to process judicial matters, including collecting evidence and handling suspects, in the event that the vessels encounter pirates, Kyodo reported.
The move comes after Somali pirates released a Japanese-owned vessel that was hijacked in the pirate-infested Gulf of Aden in November, according to a nongovernmental group that monitors piracy. The ship was released last month.
Roughly 400 MSDF personnel and eight coast guard officers are aboard the two destroyers, each of which carry two SH-60K patrol helicopters and two speedboats, officials told Kyodo.
The 4,650-ton Sazanami and 4,550-ton Samidare destroyers left their base in the southern port city of Kure after a ceremony attended by Prime Minister Taro Aso and Defense Minister Yasukazu Hamada, Kyodo reported.

Once the destroyers reach the Gulf of Aden in two to three weeks, they will escort vessels linked to Japan, such as Japanese-registered ships, vessels with Japanese nationals or cargo on board, or ships operated by Japanese shipping firms, Kyodo said.
The waters off Somalia have become a pirate hotspot in recent years, with more than 40 vessels hijacked in 2008 alone, according to the International Maritime Bureau. This has prompted a number of countries to send warships to the region in an effort to combat the problem.
E-mail to a friend

All About Pirates • Somalia • Gulf of Aden