By Tricia Escobedo
CNN





JAKARTA, Indonesia (CNN) -- Simmering ethnic and religious tensions in parts of Indonesia have yet to be adequately addressed, but none are expected to overshadow upcoming elections, a senior analyst said this week.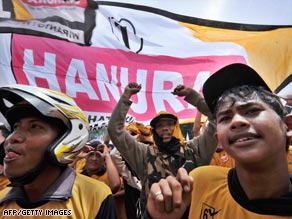 Supporters of the People's Conscience Party -- Partai Hanura -- at an election campaign in Jakarta, March 26.
"I don't really see any situation in Indonesia getting out of control," said Sidney Jones, the senior adviser for the International Crisis Group's Asia program.
But, she also noted that "people shouldn't be complacent" when it comes to tensions across Indonesia, the world's most populous Muslim country.
This week, the International Crisis Group issued a report about tensions in Aceh province leading up to the April 9 legislative elections which will determine who can run for president in July.
The International Crisis group, founded in 1995, is an independent, non-partisan group offering analysis and advice to governments, and intergovernmental bodies like the United Nations, European Union and World Bank, on the prevention and resolution of deadly conflict.
The report concluded that hostility between the Free Aceh Movement and the Indonesian military "is at its highest point since the peace deal in 2005, although there is little danger that low-level pre-election violence will escalate."
The movement's political party, Partai Aceh, is expected to overwhelmingly win in Aceh, a semi-autonomous region on the Indonesian island of Sumatra.
According to Jones, the Indonesian military is suspicious that the Free Aceh Movement "is still committed to independence and that a big victory for Partai Aceh ... could threaten the unity of the republic."
"GAM (Free Aceh Movement) is likely to win and xenophobia has come out in full force," she said Tuesday night.
Don't Miss
Also aggravating the situation are the unsolved murders of four men linked to Partai Aceh or the movement's former militant wing. Many supporters of the movement suspect the military may be behind some of the killings, but Jones warns that not all of the killings appear to be linked.
Nevertheless, ICG believes that tensions will ease once the police determine who was responsible for the killings, which took place in February and March.
The most recent killing was of an ethnic Javanese man who was "nearly beheaded" in Aceh, Jones said.
The April 9 vote -- which is being contested by 38 parties and six other parties in Aceh, alone -- will determine the makeup of Indonesia's 550-seat parliament, as well as its regional representation council, provincial, county and city assemblies.
Jones said a handful of international election observers -- including six from the Carter Center and 15 from ANFREL (Asian Network for Free Elections) -- will be deployed to monitor the April election, most of them deployed to Aceh.
She said Indonesia's government initially rejected any election monitors, and she said more are needed.
"We didn't push (the government) to allow more election monitors, but I think there should be more," Jones said.
She pointed out that the logistics of making sure a free and fair election is carried out is a bigger concern than violence.
But there are areas of Indonesia -- particularly North Sumatra where Christian-Muslim tensions are high -- where radical Islamist groups are monitoring to see what happens.
Such groups, she said, will be "ready to come to the aid of their brethren" if things get out of hand.
E-mail to a friend