By Pam Benson
CNN National Security Producer





WASHINGTON (CNN) -- The United States needs to improve its level of intelligence support for military operations in Afghanistan, the president's chief intelligence adviser said Thursday.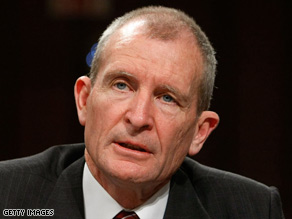 Director of National Intelligence Dennis Blair wants intel support in Afghanistan to be on a par with Iraq.
Director of National Intelligence Dennis Blair told reporters the United States lacks a deep understanding of local power structures in Afghanistan and of the militants operating along that nation's border with Pakistan.
The Obama administration is expected to announce on Friday its new strategy for both countries.
Blair said no matter what that strategy may be, "We need to ramp up the level of intelligence support in Afghanistan. ... It's got to be better than it is now."
He added that military operations in Afghanistan must have "very robust intelligence support" on par with what U.S. forces receive in Iraq.
Blair also said a lot more work is needed to get Pakistan on the same page as the United States in fighting terrorists along the border.
He would not comment on a New York Times report saying some members of the Pakistan intelligence service (ISI) have been providing direct support to the Taliban, who are attacking coalition forces in Afghanistan. But he did acknowledge the historical ties between the ISI and the Taliban and indicated the United States' primary objective is to reach a common understanding with the Pakistanis on the threat posed by the militants.
Blair, conducting his first news conference since taking office two months ago, was emphatic in knocking down suggestions the Mexican government is in danger of losing control because of the rising drug violence it faces.
Don't Miss
"Mexico is in no danger of becoming a failed state," he said. The uptick in violence, he maintained, is a result of the actions taken by the Mexican government to weaken the powerful drug cartels.
Earlier this week, the Obama administration announced it is sending hundreds of additional federal officers and more crime-fighting equipment to the border to help the Mexican government in its battle against drug cartels. Blair said the U.S. intelligence community is also lending a hand.
As part of the wide-ranging news conference, the intelligence director also said the world understands "the game" North Korea is playing in claiming it plans to launch a satellite next month. North Korea, he said, wants to test its military missile technology, which would be a violation of United Nations resolutions.
According to Blair, the greatest cyber threat to the United States comes from China.
"I think China is winning the sweepstakes for the origin of most attacks on the U.S.," he said. The United States is too big and too complex for China to risk the type of cyber attack Russia used against Georgia and Latvia, he noted, but he admitted U.S. security is unable to identify cyber threats as quickly as it should.
Calling cyber security a high priority, he said, "Unless we work hard, we could be very vulnerable."
Blair also offered reporters some personal insights about President Obama.
He called his interaction with the president "a pleasure," and said Obama "thinks at a strategic, intelligent level and leads the national security team well."
E-mail to a friend

All About Dennis Blair • Afghanistan • Pakistan • The Taliban • Mexico • Drug Trafficking • China • Barack Obama