By Dean Irvine
CNN





HONG KONG, China (CNN) -- Standing on a turfed roof garden of an old Chinese building, property developer Amil Khan surveys the ever-changing skyline of Hong Kong.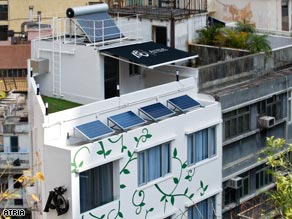 Solar in the city: Amil Khan's eco-apartment in Hong Kong's Central district is a vision of something new in the city.
"People are starting to realize that newer and bigger is not necessarily better," he says gazing over the roof-tops.
That's not the attitude that has created Hong Kong's skyline of gleaming towers, but Khan represents the green shoots emerging in Hong Kong and among the city's profit-hungry property developers.
By converting a five-storey "tong lau" -- an old Chinese building -- with solar panels, a turfed roof and energy efficient appliances, Khan also is keen to emphasize that his eco-friendly flat is as much about preserving the old and a sense of heritage as it is about being green.
"In an age when you can combine development and also adapt and reuse -- it's the ultimate in recycling. You incorporate innovation and there's a premium attached to it." Increased public awareness could change attitudes of the government and building developers, Khan said.
While Khan's company Atria has big plans, it is in the minority in Hong Kong, not only in terms of the size of its property portfolio, but also in the attitude to incorporating environmental concerns in building projects.
Hong Kong's buildings account for 89 percent of all energy consumed in the city, according to the Hong Kong government. There's a growing need and slow realization that energy efficient measures need to be put in place.
"Property developers in Hong Kong have a very mixed profile," said professor Richard Welford, deputy director of the Corporate Environmental Governance Program at Hong Kong University.
"In Hong Kong we've got a situation where perfectly good flats are taken down and replaced by high end flats just to make money, which is hardly environmentally responsible."
The call for wiser energy use has been heeded by Edward Yau, Hong Kong's secretary for the environment, who announced in February the government's multi-million dollar commitment to a program of carbon audits for buildings .Yau said he hoped it would create "new agents of change."
The city's environmental groups hope it will, too. Edwin Lau, director of Friends of the Earth in Hong Kong, said the move to clean up Hong Kong's energy-hungry buildings was long overdue.
"Compared to the rest of southeast Asia, Hong Kong is very poor when it comes to its environmental record," Lau said. "A big reason is because the Hong Kong government has long had a laissez-fair attitude and said it would leave it to the market to regulate. But it's realized that it has to act."
"In these bad economic times it's a great incentive to be energy efficient, but we need to provide set standards, otherwise many developers only go for the bare minimum."
The view from the top floor
However, many in the property industry don't believe that a lack of government action is a bad thing.
Swire Properties is one of Hong Kong's biggest property developers and believes that building to industry-set HK-BEAM standards and being increasingly energy efficient and environmentally aware is just good business.
"Embedded energy at this point is not mature enough to be workable and current research that says PV (photo-voltaic, or the technology used to employ solar cells) isn't a go-er for Hong Kong," said Cary Chan, Swire Properties' head of technical services.
"The approach we are taking is to influence our stakeholders. The energy audit we started four months ago, which is free of charge, I think is much more direct than putting a windmill on a roof."
Don't Miss
Swire Properties are conducting their own green audit independent of the government's. The aim is to gauge the energy efficiency of all their properties that cover 13 million square feet of Hong Kong prime real estate and help tenants make their corporate social responsibility goals.
"There's a lot of research that tenants are ready to pay more [for energy efficient buildings]," Welford said.
"I think there are pressures [on property developers] coming from banks and investors and some of the big Western brands and big office users. The companies that take this seriously are well beyond green-washing and can see the strategic advantage."
Putting buildings on a carbon diet through retro-fitting, similar to Khan's eco-apartment, is one policy that Swire has used; installing improvements such as smart lighting and heating technology is another.
Yet Swire has found that even energy-saving innovations have their own flaws.
"Movement sensor-triggered lighting in one building was set to stay on for an hour each time it was triggered. That's fine during office hours, but not energy efficient every time a security patrol walked through after work-hours," Chan said.
Welford, however, believes that property developers like Swire and Sino Group that have progressive environmental policies remain a minority -- both in Hong Kong and across Asia.
"There's a long tail. This is where you might argue the voluntary codes haven't been enough. It allows the laggards to get away with it, which in Asia would be the majority."
Khan agrees: "There's a sense of commitment by some property companies, but I don't see the sense of urgency. There's still a lack of understanding and sense of denial about these things, particularly in Hong Kong and in Asia. That's going to have to change."
For Khan, building green is essential to the continued success of Hong Kong as a hub for business and a city that people want to live and work in.
"Hong Kong has always been about maximizing profits, but Atria's way of developing challenges it. Big developers are slower in adapting. But I don't see the right balance yet," he said.
"If Hong Kong is just about shopping malls and skyscrapers, well, maybe Singapore is doing that better. There are no excuses, you need to have vision, otherwise other global cities will overtake. The competitiveness of Hong Kong is on the line here."
E-mail to a friend