By Tricia Escobedo
CNN






SINGAPORE (CNN) -- The current global economic downturn will change the worldwide power structure, giving China and India a stronger role to play in the future, Singapore's foreign minister said Tuesday.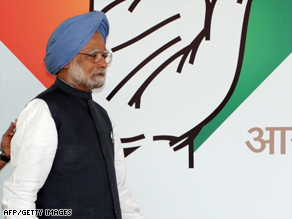 Prime Minister Manmohan Singh wants credible decisions from the G-20 summit.
"China and India will continue to grow and by the time this is all over, the global landscape will look quite different," George Yeo told a group of visiting foreign journalists.
"The U.S. will remain pre-eminent for a long time to come, but the U.S. will have to act with the full recognition that there are many poles (of power)."
Singapore's economy is expected to contract between 2 and 5 percent this year, the Ministry of Trade and Industry said last month.
Right now, all countries affected by the downturn -- including Singapore -- are focused on the domestic impact, Yeo said.
But the Singaporean foreign minister said he foresees the situation affecting the small city-state's relationship with its various allies -- particularly with China and India.
"So however the world turns, we have deep links to the West, Japan, and old links to China and India that we'll deepen," Yeo said.
Last month, Singapore's ministry of trade said the country's economy shrank by more than 4 percent in the fourth quarter of 2008. Singapore's economy grew just over 1 percent for the entire year compared to a robust growth of 7.8 percent a year earlier, the ministry added.
All major sectors, except for construction, business services and information and communications saw contractions during the fourth quarter, the ministry said. The ministry cited a decline in private sector investments and private consumption expenditure for dragging down total domestic demand.
"It's a complex world ... we've got to think through very carefully and ask ourselves what our strengths, what our weaknesses are, and how should we respond," Yeo said.
Declines in global demand for electronics products, pharmaceuticals and chemicals were also likely to weigh on the manufacturing sector
Yeo said it is unclear "how much worse it will get," but he remained optimistic.
"There are more opportunities when there are troubles in this world," he said
Yeo, who previously served as Singapore's finance minister, said the downturn has frightened investors away from the current financial system.
"The tendency will be to go back on the trust networks that we understand and are comfortable with," he said, adding that "it's going to take time" to rebuild trust.
E-mail to a friend