BANGKOK, Thailand (CNN) -- Thai and Cambodian troops exchanged fire early Friday killing at least four soldiers near a disputed border temple that was the site of clashes last year, a Thai military official said.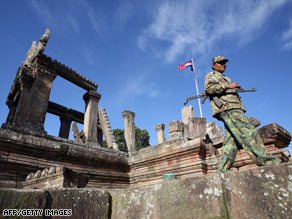 A Cambodian soldier walks past Preah Vihear temple in the Cambodian province of Preah Vihear.
A group of about 20 Cambodian soldiers "intruded" into Thai territory and opened fire after they were warned to leave by Thai soldiers, said Thai army spokesman Col. Sansern Kaewkunerd. Both sides exchanged gunfire and rocket-propelled grenades in a firefight that lasted about five minutes with no casualties
But in a second round of fighting two Thai soldiers died and 10 others were injured, said Thai army Lt. Col. Vichit Mugkarun.
Two Cambodian soldiers and nine others were injured in the battle, the official said
Cambodian officials could not be immediately reached for comment.
The fighting took place about 2 miles (3 km) from the 11th century Preah Vihear temple.
For months last year, the two countries saber-rattled over the ancient temple. The nations differ on whether some territory around the temple forms part of Thailand or Cambodia.
Both countries posted troops in the area after the United Nations in July approved Cambodia's application to have the temple listed as a World Heritage Site -- a place the United Nations says has outstanding universal value.
The temple sits atop a cliff on Cambodian soil, but has its most accessible entrance on the Thai side.
The International Court of Justice awarded the temple to Cambodia in 1962. Thailand claims, however, that the 1.8 square mile (4.6 sq. km) area around it was never fully demarcated.
Thailand says the dispute arose from the fact that the Cambodian government used a map drawn during the French occupation of Cambodia -- a map that places the temple and surrounding area in Cambodian territory.
The United Nations' decision re-ignited tensions, with some in Thailand fearing it will make it difficult for their country to lay claim to disputed land around the temple.
Last year's flare-up began July 15, when Cambodian guards briefly detained three Thais who crossed into the area. Once they were let go, the three refused to leave the territory.
Cambodia claimed Thailand sent troops to retrieve the trio and gradually built up their numbers. Thailand denied that, saying its troops are deployed in Thai territory.
E-mail to a friend

CNN's Kocha Olarn contributed to this story.