SEOUL, South Korea (CNN) -- North Korea launched a long-range rocket Sunday in what U.S. and South Korean officials deemed a provocative act.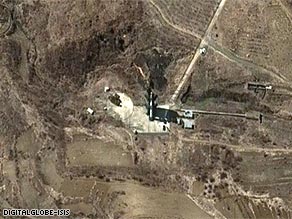 A recent satellite image shows a rocket sitting on its launch pad in northeast North Korea.
While the United States and South Korea confirmed the rocket launch, the payload of the rocket remained unclear. North Korea has said the rocket was to carry a satellite into space, but the United States, South Korea and other nations fear it could be a missile with a warhead attached.
"With this provocative act, North Korea has ignored its international obligations, rejected unequivocal calls for restraint, and further isolated itself from the community of nations," U.S. President Barack Obama said in a statement.
"We will immediately consult with our allies in the region, including Japan and (South Korea), and members of the U.N. Security Council to bring this matter before the Council," Obama added. "I urge North Korea to abide fully by the resolutions of the U.N. Security Council and to refrain from further provocative actions."
A senior Obama administration official in Washington confirmed that the rocket did clear Japan.
Japan's chief Cabinet secretary told reporters after the launch that the country's military was not forced to intercept any missiles, which it had pledged to do if necessary.
Preliminary data show that two objects, likely boosters from the rocket, apparently fell around Japan, one in the Sea of Japan and one in the Pacific Ocean.
Don't Miss
The rocket -- launched at about 11:30 a.m. local time on Sunday (2:30 a.m. GMT) -- was a "provocative act in violation" of U.N. Security Council resolution on North Korea's weapons program, Fred Lash, a State Department spokesman, told reporters.
An October 2006 resolution condemned North Korea for missile launches in the summer and a nuclear test that same month.

Watch the debate about what North Korea is allowed to do »
The office of the South Korean president condemned the launch, calling it a "serious threat" to world peace, the state-run Yonhap news agency reported.
"We cannot withhold our regrets and disappointment that North Korea has caused such a serious threat to peace on the Korean Peninsula and in the world by firing a long-range rocket when the entire world is joining efforts to overcome the global economic crisis," Lee Dong-kwan, a presidential spokesman said, according to Yonhap.
On Friday, Obama reiterated that the United States strongly opposes any such launch.
"We have made it very clear to the North Koreans that their missile launch is provocative, it puts enormous strains on the six-party talks and that they should stop the launch," Obama said while on a stop in France.
Obama warned that the United States will join with its allies to take "appropriate steps" to let North Korea know it can't violate United Nations rules and get away with it.
Earlier Sunday, before the launch, South Korea's national security council called an emergency meeting amid concerns that a North Korean rocket launch was imminent, a presidential spokesperson said.
Also, Japan's representative to the United Nations, Yukio Takasu, sent a letter requesting an urgent Security Council meeting in response to the launch. The letter to Claude Heller, Mexico's representative and the current security council president, was sent minutes after news of the launch broke.
Western nations fear that North Korea plans a ballistic missile test rather than a satellite launch, but the Obama administration's special envoy to the six-party talks, Stephen Bosworth, said last week that it didn't matter if the North Koreans were trying to put a satellite in space or testing a ballistic missile that could threaten Japan or the United States.
"Whether it is a satellite launch or a missile launch, in our judgment makes no difference. It is a provocative act," Bosworth said.
Bosworth said the U.S. stands ready -- after a launch -- to participate in United Nations deliberations on new sanctions against North Korea.

U.S. Rep. Howard Berman, chairman of the House Foreign Affairs Committee, issued a statement late Saturday.
"It is alarming that North Korea carried out this missile launch in direct defiance of the international community," Berman said. "The test is an unnecessary provocation that raises tensions in the region, and I urge the North Koreans to stop using their missile and WMD programs to threaten their neighbors and the rest of the world."
E-mail to a friend

CNN's Jie-Ae Sohn in Seoul, and Charlie Keyes and Elise Labott in Washington contributed to this report.
All About U.S. Navy • North Korea