From Christiane Amanpour
CNN Chief International Correspondent





(CNN) -- After a three-hour emergency session Sunday, the United Nations Security Council failed to come to any agreement on how to deal with North Korea's rocket launch over the weekend.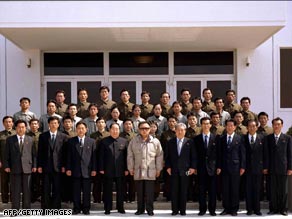 Picture released by North Korean state news agency shows Kim Jong Il, center, with staff from the rocket team.
Sources say China, Russia Libya and Vietnam are blocking any resolution or punitive measures. They call for caution and restraint while the U.S. is calling for a strong and unified response.
Officials believe the most that could happen would be a Security Council presidential statement condemning the launch and a possible attempt to reaffirm existing U.N. sanctions on Pyongyang. They do not expect new sanctions to be imposed.
U.S. Northern Command and other intelligence sources are portraying North Korea's launch of what they say was a Taepodong-2 missile as a failure. "Stage one of the missile fell into the Sea of Japan. The remaining stages along with the payload itself landed in the Pacific Ocean. No object entered orbit and no debris fell on Japan," according to a statement from the North American Aerospace Defense Command (NORAD) and the Northern Command.

Watch Christiane Amanpour discuss rocket launch with security analyst »
NORAD also says the launch was not a threat to North America or Hawaii.
For weeks, North Korea had informed the U.S., along with its regional neighbors and allies, that it intended to launch what it calls an experimental communications satellite into orbit. Despite NORAD's assessment, North Korea claims a satellite was launched and has been beaming back patriotic songs to its people. The country's Ambassador to the U.N. said "we are happy, we are happy."
Don't Miss
Analysts say this may be because the U.S. said the rocket actually made it over Japan, while the last time North Korea tried testing a Taepodong-2, in 2006, it fizzled less than a minute after launch.
David Wright, a senior scientist at the Union of Concerned Scientists in Cambridge Mass., told CNN that the launch did not mean North Korea was capable of mounting a nuclear warhead on a missile, saying it has not mastered that technology. He says North Korea is years away from developing a nuclear warhead that would be small, light and heat-resistant enough to launch on a missile.
However, noting that missile shield advocates will use this launch to push missile defense technology, Wright told CNN, it would not be the answer since North Korea, and any other country could easily use decoys and other counter-measures to thwart the anti-missile technology.
Analysts believe North Korea and its leader Kim Jong-Il conducted the launch for several reasons, including showing off its missile capability to potential buyers, showing off its capability to its own citizens ahead of a rubber-stamp parliamentary session this week in Pyongyang where the leader will be installed again by acclamation, and finally that Pyongyang conducted the launch as a way of attracting the attention of the Obama administration to focus again on the six-party talks on its nuclear disarmament.
The launch came just hours before President Obama, in Europe, delivered a speech on nuclear non-proliferation. While saying that North Korea had again broken the rules he made a new U.S. pledge.
"Today I am announcing a new international effort to secure all vulnerable nuclear material around the world within four years. We will set new standards, expand our cooperation with Russia, pursue new partnerships to lock down these sensitive materials. And we should start by having a global summit on nuclear security that the United States will host within the next year."
At the G-20 summit in London earlier this week, President Obama and his Russian counterpart Dmitry Medvedev announced they would negotiate a new start nuclear arms control treaty and Obama said he would immediately and aggressively push for the U.S. to ratify the Comprehensive Test Ban Treaty.
This time last year, select journalists, including this reporter, were shown around North Korea's Yongbyon nuclear facility. At the time, it was shut down and in the process of being dismantled in agreement with the U.S. and allies to disarm its nuclear capability.
Then in June 2008, we were invited back to witness North Korea blowing up the distinctive cooling tower at Yongbyon in a very public gesture of goodwill an intent to continue nuclear disarmament. In an exclusive meeting with North Korea's chief nuclear negotiator, Vice Foreign Minister Kim Gae Gwan, he told this reporter that North Korea was committed to nuclear disarmament but insisted the U.S. and others in the six-party talks must meet their obligations too, such as helping North Korea offset its dire energy shortages, "by providing 1 million metric tons of fuel oil."

North Korea now says it is slowing down its disabling of Yongbyon and that it will engage in "action for action."
Some analysts now say that despite North Korea's "provocative" rocket launch, the U.S. and its allies should launch new policy incentives and expectations with clear benchmarks for North Korea's nuclear disarmament.
E-mail to a friend

All About North Korea • World Politics • Asia-Pacific Politics • United Nations