From Joe Vaccarello and Evan Buxbaum
CNN





UNITED NATIONS -- The five permanent members of the U.N. Security Council and Japan met Monday for a second closed-door session to hammer out a response to North Korea's weekend rocket launch in defiance of international opposition.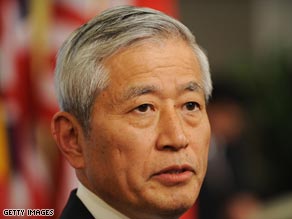 Yukio Takasu, Japan's ambassador to the U.N., speaks after an emergency Security Council meeting Sunday.
But, as happened on Sunday following a called emergency session, there was no official statement from the council.
John Sawers, British ambassador to the United Nations, emerged Monday from the discussions to reiterate the Western governments' belief that the launch of the Taepodong-2 rocket was a breach of Security Council resolutions and required a clear council response.
Security Council Resolution 1718 was unanimously adopted in 2006, imposing a series of economic and commercial sanctions on North Korea. The resolution called for Pyongyang to conduct no further nuclear tests and to suspend all activities related to its ballistic missile program, including launches.
The North Koreans said the rocket successfully boosted a communications satellite into space, but U.S. officials said the payload cleared Japanese airspace but later fell into the Pacific Ocean and failed to reach orbit.
Don't Miss
Japan has been the staunchest proponent of an additional resolution, calling North Korea's actions "a direct threat to Japan" and "a real threat to international peace and security." Japan's U.N. ambassador, Yukio Takasu, has advocated enacting additional sanctions on North Korea through a new resolution.
However, not all Security Council members are onboard with Japan and the West. Russia and China are pushing for a technical assessment of the rocket launch before further actions are undertaken.

Earlier Monday, Russian Ambassador Vitaly Churkin said it was important to avoid an "emotional knee-jerk reaction because what we do need is common strategy and not losing sight of the goal -- and this is the denuclearization of the Korean peninsula."
France is the fifth permanent member of the Security Council, with Russia, China, the United Kingdom and the United States.
E-mail to a friend

All About North Korea • World Politics • Asia-Pacific Politics • United Nations