WASHINGTON (CNN) -- A new satellite image shows North Korea's rocket in flight soon after its launch a few days ago, experts said.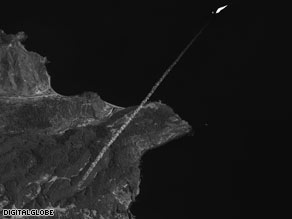 The group says this image was captured by a satellite on Sunday.
The communist nation launched the rocket over the weekend in defiance of international opinion -- and possibly U.N. Security Council resolutions.
DigitalGlobe, a company that provides satellite imagery, said the photos were taken Sunday over North Korea.
The image shows the missile's exhaust plume, according to the Washington-based Institute for Science and International Security, which analyzed the satellite photo. The flame from the burning propellant appears as a solid white mark.
The terrain below the rocket is only a few kilometers away from the launch pad, the institute said. A close-up, which the institute analyzed, shows the flame from the rocket's burning propellant, the institute said.
GlobalSecurity.org, a Washington-based firm that focuses on "emerging security challenges," said the image released by DigitalGlobe shows the contrail, or vapor trail, and rocket exhaust plume of the launch vehicle.
North Korea has described the launch -- which flew in the face of numerous international warnings -- in celebratory terms.
Don't Miss
State-run media KCNA said North Korean leader Kim Jong-Il expressed "great satisfaction" at seeing the launch of the rocket carrying a communications satellite.

Not only did the country successfully send a communications satellite into orbit, KCNA said, but "it is sending to the Earth the melodies of the immortal revolutionary paeans 'Song of General Kim Il Sung' and 'Song of General Kim Jong Il.' "
The United States and other nations say the move demonstrated the country's ability to shoot a long-range missile -- a rocket with a warhead attached -- and violated Security Council resolutions. They said the rocket did not put anything in orbit.
E-mail to a friend

All About North Korea • World Politics • Asia-Pacific Politics • United Nations