BANGKOK, Thailand (CNN) -- Thousands of anti-government protesters Wednesday called for the resignation of the country's prime minister as they assembled outside three Bangkok locations, including the house of the king's top adviser and a government building.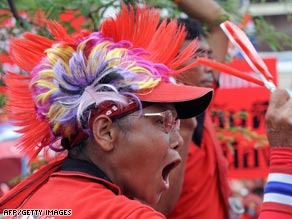 Supporters of Thailand's ousted premier Thaksin Shinawatra rally in Bangkok on Wednesday.
The "red shirt" protesters, named for the color of their attire, amassed outside the house of Gen. Prem Tinsulanonda, the president of the Privy Council, a group of advisers to the country's king.
Thousands also were rallying outside Government House -- the seat of the Thai government -- and at the Royal Plaza, a public square in Bangkok.
Demonstrations have intensified in recent weeks, helping to destabilize the government of Prime Minister Abhisit Vejjajiva.

Watch more about the "red shirt" rally »
By around 6 p.m. (7 a.m. ET), Pol. Maj. Gen. Suporn Pansuea said the number of protesters had reached 78,000.
Ahead of Wednesday's demonstrations, the protesters had said they would draw up to 300,000 people from all over Thailand.
The protesters are loyal to former Prime Minister Thaksin Shinawatra, who was ousted in a 2006 coup. They accuse Prem of masterminding the coup, which he denies.
Thaksin now lives outside of Thailand.
The protesters have said Abhisit's government was not democratically elected and want him to resign and schedule elections.
Abhisit, who has held the position for four months, has rejected calls for him to step down. On Tuesday, protesters rushed Abhisit's motorcade while it was struck in traffic. He escaped unharmed.
Don't Miss
Lawmakers named the 44-year-old, Oxford University-educated Abhisit prime minister in December in the wake of months of demonstrations against Thaksin and his ruling party, People Power Party.
The protesters opposed to Thaksin took to the streets last year wearing yellow shirts, occupied the Government House and blockaded Bangkok's major international airport, stranding throngs of tourists who provide much of the country's revenue.

The demonstrations ended in early December when a court ruled that the People Power Party was guilty of electoral fraud and threw Thaksin's brother-in-law out of the prime minister's seat.
The red shirt protesters said this week they would not take over the airports.
E-mail to a friend

CNN's Kocha Olarn contributed to this report.
All About Thailand • Thaksin Shinawatra