MOSCOW, Russia (CNN) -- Nearly a week after North Korea ignored international warnings and launched a long-range rocket, a Russian official said Thursday that Moscow opposes new sanctions against the communist nation.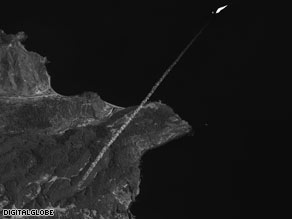 A satellite company says this image was taken shortly after North Korea launched the rocket.
"There is an idea of a tough resolution stipulating new sanctions against North Korea. We do not want that," Russian Foreign Ministry spokesman Andrei Nesterenko said at his televised weekly briefing.
The U.N. Security Council convened Sunday, just hours after the early-morning test, but took no action, despite calls for tighter sanctions against Pyongyang.
NATO's North Atlantic Council condemned the launch Thursday, saying it violated Security Council resolutions 1695 and 1718.
The resolutions demand that North Korea suspend actions related to its ballistic missile program. The council said the nation should re-commit to the moratorium on its missile program.
Nesterenko disagreed.
Don't Miss
"Stricter sanctions may have the opposite result, inflict an irreparable damage on the six-nation negotiations, increase the isolation and anger of North Korea and provoke its disproportionate response," he said.

The North Korean government insists the launch was a peaceful one, and said the rocket was carrying a communications satellite.
The United States and other nations say the move demonstrated the country's attempt to develop a long-range missile -- a rocket with a warhead attached.
E-mail to a friend

CNN's Maxim Tkachenko contributed to this report.
All About North Korea • World Politics • Asia-Pacific Politics • United Nations