BANGKOK, Thailand (CNN) -- About 100 taxis blocked an important Bangkok intersection Thursday evening in solidarity with anti-government protesters.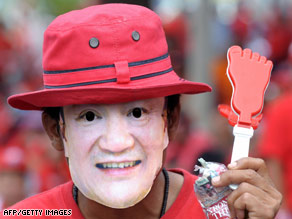 A supporter of former premier Thaksin Shinawatra wearing his mask at a protest in Bangkok on Thursday.
The protesters said they would intensify their movement if the prime minister ignored their ultimatum to step down.
The protesters had given Prime Minister Abhisit Vejjajiva until Thursday afternoon to give in to their demands. He ignored them and left for the beach resort city of Pattaya to meet with leaders from southeast Asian countries at a summit.
Demonstrators said they will now gather outside the prime minister's house, and also head to the hotel hosting the Association of South East Asian Nations (ASEAN) summit.
Thailand is in the midst of a political crisis, with thousands of "red shirt" protesters amassed outside government headquarters. The protesters, named for their clothing, say Abhisit was not democratically elected. They want him to schedule elections.
The protesters are loyal to former Prime Minister Thaksin Shinawatra, who was ousted in a 2006 coup. He fled Bangkok last year while facing trial on corruption charges.
Wednesday night, Thaksin spoke to the crowd in a broadcast, saying the movement is not about him.
"It's about our country, our people and the future generation," he said. "We want a Thailand that has liberty, equality and fraternity."
Protesters are also gathered at the Royal Plaza, a public square in Bangkok, and at the house of Gen. Prem Tinsulanonda, the president of the Privy Council, a group of advisers to the country's king.
They accuse Prem of masterminding Thaksin's coup. Prem denies it.
The demonstrators ebb and flow in numbers. Attendance reached almost 100,000 Wednesday but fell Thursday morning, said Metropolitan Police spokesman Maj. Gen. Suporn Pansuea.

Watch more about the "red shirt" rally »
Lawmakers named the 44-year-old, Oxford University-educated Abhisit prime minister in December.
Before then, a party loyal to Thaksin was in power -- and Thailand was contending with another group of protesters.
Those demonstrators -- the "yellow shirts" -- wanted Thaksin to return to Thailand to face the corruption charges. And they wanted the Thaksin-aligned People Power Party, which came to power in a general election, to step down.
Months of protests followed. Demonstrators occupied the government headquarters and blockaded Bangkok's major international airport, stranding tourists who provide much of the country's revenue.

The demonstrations ended in early December when a court ruled that the People Power Party was guilty of electoral fraud and threw Thaksin's brother-in-law out of the prime minister's seat.
The red-shirt protesters said this week that they would not take over airports.
E-mail to a friend

CNN's Kocha Olarn contributed to this report.
All About Thailand • Thaksin Shinawatra