UNITED NATIONS (CNN) -- The U.N. Security Council on Monday adopted a declaration condemning North Korea for launching a rocket earlier this month.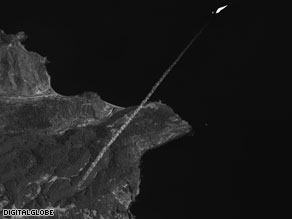 A satellite company says this image was taken shortly after North Korea launched the rocket.
The 15-member council voted unanimously for a statement by the president of the Security Council which also demands that North Korea make no more launches.
The Security Council has been discussing the matter since North Korea's April 5 launch of what it said was a communications satellite. The United States has said that the satellite did not reach orbit.
U.S. Ambassador Susan Rice said the United States is pleased with the language in the statement, which was a compromise reached when the five permanent members of the Security Council and Japan could not come to agreement on a resolution with new sanctions.
"The United States is happy with the statement," Rice said, adding that the nation "views presidential statements as binding."
The statement says the rocket launch was "in contravention" to a 2006 Security Council resolution that demanded that North Korea not launch any ballistic missiles. It also calls for North Korea and other nations to "comply fully" with their obligations under that resolution, including certain sanctions.
The resolution allows for an "adjustment" of sanctions, and Monday's statement sets up a committee to make recommendations on such an adjustment by April 24.
Don't Miss
"We are tightening the sanctions screw a bit," said John Sawers, the British ambassador to the United Nations.
Rice said that the United States has "compiled a list of goods and entities" it wants to see added to the sanctions under provisions of that resolution.
Japanese Ambassador Yukio Takasu said his nation is prepared to "act immediately" with its own list.
China's ambassador, Zhang Yesui, said his country is pleased that the Security Council adopted a presidential statement instead of a new resolution.
"Our position has been clear and consistent that the reaction from the council has to be cautious and conducive to peace and stability and conducive to the six-party talks and conducive to the safe-guarding of the non-proliferation regime," he said.
Both Zhang and Russian Ambassador Vitaly Churkin argued for a "reasoned" approach to North Korea.
Russia, China, the United States, the United Kingdom and France are the permanent members of the Security Council, each with veto power. Japan joined the discussions as the nation most threatened by North Korea's actions.
E-mail to a friend

All About North Korea • United Nations