(CNN) -- Below is a chronology of the development of North Korea's nuclear weapons program.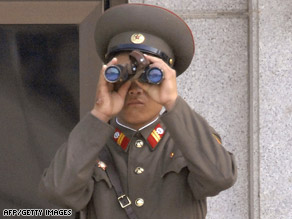 A North Korean soldier scans the southern side of the border at Panmunjom along the Demilitarized Zone.
Five nations -- the United States, South Korea, Russia, China and Japan -- are applying pressure on Pyongyang to get the secretive nation to give up its nuclear weapons ambitions.
1993
North Korea says it has quit the Nuclear Nonproliferation Treaty amid suspicions that it is developing nuclear weapons. It later reverses that decision.
1994
North Korea and the United States sign an agreement where Pyongyang pledges to freeze and eventually dismantle its nuclear weapons program in exchange for international aid to build two power-producing nuclear reactors.
1998
August: North Korea fires a multistage missile over Japan and into the Pacific Ocean, proving it can strike any part of Japan's territory.
November: The United States and North Korea hold the first round of high-level talks in Pyongyang over North Korea's suspected construction of an underground nuclear facility. The United States demands inspections.
1999
May: Former Defense Secretary William Perry visits North Korea and delivers a U.S. disarmament proposal.
September 13: North Korea pledges to freeze long-range missile tests.
September 17: President Bill Clinton eases economic sanctions against North Korea.
December: A U.S.-led consortium signs a $4.6 billion contract for two Western-developed light-water nuclear reactors in North Korea.
2000
July: North Korea threatens to restart its nuclear program if Washington doesn't compensate for the loss of electricity caused by delays in building nuclear power plants.
2001
June: North Korea warns it will reconsider its moratorium on missile tests if the administration of U.S. President George W. Bush doesn't resume contacts aimed at normalizing relations.
July: U.S. State Department reports North Korea is going ahead with development of its long-range missile. A Bush administration official says North Korea conducts an engine test of the Taepodong-1 missile.
December: U.S. President Bush warns Iraq and North Korea that they would be "held accountable" if they developed weapons of mass destruction "that will be used to terrorize nations."
2002
January 29: Bush labels North Korea, Iran and Iraq an "axis of evil" in his State of the Union address. "By seeking weapons of mass destruction, these regimes pose a grave and growing danger," he says.
October: The Bush administration reveals that Pyongyang had admitted operating a secret nuclear weapons program in violation of the 1994 agreement. North Korean officials acknowledged the program after U.S. officials confronted them with evidence.
November: The United States, Japan and South Korea halt oil supplies to North Korea promised under a 1994 deal.
December: North Korea removes IAEA monitoring seals and cameras from its nuclear facilities and expels the watchdog agency's inspectors.
2003
January 10: North Korea withdraws from the Nuclear Nonproliferation Treaty.
February 5: North Korea's official news agency says the nation has reactivated its nuclear power facilities.
February 12: The 35-member International Atomic Energy Agency (IAEA) board of governors declares North Korea in breach of atomic safeguards and refers the case to the U.N. Security Council.
February 24: North Korea test fires a land-to-ship missile into the sea between the Korean Peninsula and Japan.
February 26: The United States says North Korea has reactivated its five-megawatt nuclear reactor at Yongbyon.
March: North Korea test fires a land-to-sea anti-ship missile into the Sea of Japan.
July: A senior U.S. official says North Korea has begun reprocessing spent nuclear fuel rods, suggesting the communist country intends to produce nuclear weapons.
August: The U.S., North Korea, South Korea, China, Japan and Russia take part in talks about the crisis in North Korea.
2004
February: The six nations hold a second round of talks but report little progress, other than agreement to meet again.
June: The U.S., North Korea, South Korea, China, Japan and Russia take part in a third round of talks.
August: North Korea says it will not attend working meetings to prepare for the proposed six-nation summit scheduled in September. North Korea offers to freeze its nuclear program in exchange for aid, easing of sanctions and being removed from the U.S. list of state sponsors of terrorism. The United States wants North Korea to disclose all nuclear activities and allow inspections.
September: Further proposed six-nation talks are postponed indefinitely as the United States and North Korea blame each other for the impasse.
2005
February: North Korea says it will "bolster its nuclear weapons arsenal," in response to what it says are U.S. efforts to topple its government. It is Pyongyang's first public admission it has nuclear weapons.
March: U.S. Secretary of State Condoleezza Rice says if efforts to persuade North Korea to give up its nuclear weapons program fail, Washington and the international community will pursue "other ways." Meanwhile the head of the U.N. nuclear watchdog agency, Mohammed ElBaradei, says North Korea poses more of a nuclear threat than Iran because it already has nuclear material that could go into a weapon.
May: North Korea, in a statement identical to one issued two years earlier, says it has finished extracting 8,000 fuel rods from its reactor at Yongbyon, which it shut down a month ago.
June: North Korea says it has a stockpile of nuclear weapons and is building more, even as it discusses a return to six-party talks on its nuclear program.
July: North Korea says it will return to the talks, due to be held in the week of July 25. Pyongyang joins fourth round of six-party talks, saying it is willing to work towards the denuclearization of the Korean peninsula.
August: After meeting for 13 straight days, diplomats from the U.S., the two Koreas, China, Japan and Russia decide to take a recess from talks. Prospects for a deal on scrapping North Korea's nuclear program are uncertain, U.S. negotiator Christopher Hill says. Pyongyang hints at compromise after saying it may be willing to offer proof that it does not have a uranium-based weapons program. Talks are put on hold until September.
September: North Korea and the U.S. remain at odds as talks resume, after Pyongyang reiterates its demands to maintain a civilian nuclear program. North Korea agrees to give up its entire nuclear program, including weapons, in return for aid and security guarantees. Later, North Korea says it will only do so if the U.S. provides a light-water reactor for civilian power. The U.S. and Russia reject Pyongyang's demand.
November: The talks hit an impasse after North Korea is angered by U.S. financial restrictions against banks and North Korean companies for their alleged involvement in currency counterfeiting and other illicit activities.
2006
April: North Korea offers to resume talks if U.S. releases frozen North Korean assets originating from a bank in Macau.
July: North Korea test-fires six missiles, including a long-range Taepodong-2 rocket believed capable of reaching western United States. Taepodong rocket fails after 40 seconds, but U.S. denounces tests as "provocative."
October 9: North Korea's official Korean Central News Agency (KCNA) reports the country has performed a successful underground nuclear test.
October 14: The U.N. Security Council votes unanimously to impose a wide set of sanctions on North Korea as punishment for the Asian nation's claimed nuclear weapons test. North Korea rejects the resolution and walks out of the security council chamber.
2007
January 22: Envoys to the six-party talks on North Korean nuclear disarmament sound rare notes of optimism, raising hopes for progress after their expected return to the bargaining table in coming weeks.
January 27: North Korea expresses outrage at a British newspaper's report that Pyongyang was sharing its nuclear weapons technology with Iran, dismissing it as a "bid to mislead public opinion."
January 31: Pyongyang will feel compelled to announce plans for another nuclear test if a financial dispute with Washington is not resolved, a source says, a sign of Pyongyang's impatience with a lack of progress in talks.
February 13: North Korea agrees to take first steps toward nuclear disarmament and shut down its main reactor within 60 days before eventually dismantling its atomic weapons program after six-party talks in Beijing.
June: U.S. envoy Christopher Hill travels to North Korea for two days of talks with North Korea's nuclear negotiator in the highest-level U.S. visit to Pyongyang in more than four years. Days earlier, $25 million in North Korean funds that had been frozen since late 2005 were transferred from a Macau, China, bank to a Russian bank where North Korea has an account, as agreed to in February.
September 30: In an agreement signed at the six-party talks in Beijing, North Korea agrees to begin disabling its nuclear weapons facilities and allow a U.S. team, including technical experts, to take the lead in doing so.
October 2-4: North Korean leader Kim Jong Il and Korean President Roh Moo-hyun open talks in Pyongyang, North Korea, in the first summit between the split nations in seven years. Both sides pledge to seek talks to formally end the Korean war.
October: North Korea agrees to disable three nuclear facilities and to declare all of its nuclear programs by the end of the year.
November: The prime ministers of North and South Korea hold a rare meeting.
2008
January: The U.S. declares Pyongyang's failure to declare its nuclear activities after the deadline passes at the end of 2007.
February: South Korea's President Lee Myung-bak stipulates the conditions of nuclear disarmament and improvements in human rights in return for aid to the North.
March 26: South Korean diplomats leave an industrial park their country runs with North Korea after Pyongyang demands their withdrawal.
June 26: Pyongyang declares its nuclear assets, turning over a 60-page document to China that is written in English, detailing several rounds of plutonium production at its Yongbyon plant dating back to 1986.
August 26: North Korea declares it has stopped disabling its nuclear plants and will consider restoring them since the U.S. has not removed it from a list of states that sponsor terrorism.
October 11: The United States removes North Korea from its list of states that sponsor terrorism. December: Following a move by the U.S. to halt energy aid, Pyongyang reduces efforts to dismantle its nuclear program.
2009
January: The North accuses South Korea of "hostile intent" and revokes all military and political agreements with Seoul.
April 5: North Korea initiates what it calls a peaceful launch of a satellite, but the U.S. State Department declares it a "provocative act in violation" of a 2006 Security Council resolution prohibiting North Korea from conducting ballistic missile launches.
April 9: North Korean leader Kim Jong-Il is reappointed as chairman of the National Defense Commission, which oversees the country's military.
April 10: Japan announces it will tighten economic sanctions against North Korea to punish the communist regime for its launch of a rocket.
April 13: The U.N. Security Council adopts a declaration condemning North Korea for launching a long-range rocket, demanding that North Korea make no more launches.
April 14: North Korea vows to walk out on international talks to end its nuclear program after the U.N. Security Council criticizes its launch of a rocket.
April 18: North Korea says any sanctions or pressure applied against it following its recent rocket launch would be considered a "declaration of war."
April: The U.S. vows consequences after Pyongyang expels U.S. nuclear experts, along with U.N. nuclear inspectors following the United Nations' condemnation of North Korea's rocket launch.
April 21: Government officials from South Korea arrive in the North for the first inter-Korean talks in more than a year.

May 25: North Korea conducts its second underground nuclear test, the country's state news agency says. United Nations Security Council members unanimously condemn the nuclear test.

May 27: North Korea fires another short-range missile.

June 13: North Korea vows to strengthen its nuclear capabilities in defiance of the U.N. Security Council's move to tighten sanctions against it.
August 3: Former U.S. President Bill Clinton heads to North Korea to negotiate the release of two American journalists.
E-mail to a friend