(CNN) -- Russian Foreign Minister Sergei Lavrov arrived in Pyongyang on Thursday for talks with North Korean officials, the state-run Korean Central News Agency reported.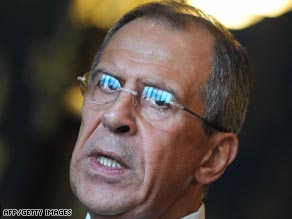 Russian Foreign Minister Sergei Lavrov is in North Korea for talks.
The visit follows the recent test launch of a long-range rocket by North Korea.
The launch was condemned by the U.N. Security Council as a violation of a resolution banning ballistic missile testing. North Korea later expelled U.S. nuclear experts and U.N. nuclear inspectors, ended six-party talks and said it would reactivate all its nuclear facilities.
The six-party talks -- involving China, Japan, North Korea, Russia, South Korea and the United States -- are aimed at disarming the North of nuclear weapons.
On Tuesday, representatives from North Korea also walked out of talks with their southern counterparts after only 22 minutes.
They were meant to discuss business deals tied to the Kaesung Industrial Complex in North Korea, which is run by both nations.
However, the talks broke off after the North Korean delegation refused to discuss the release of a detained South Korean worker, saying he was not on the agenda, according to South Korean officials.
E-mail to a friend

All About North Korea • South Korea • Russia