UNITED NATIONS (CNN) -- A U.N. panel Friday targeted three North Korean companies to have their assets frozen in response to Pyongyang's April 5 rocket launch.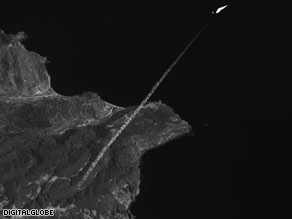 DigitalGlobe says this image was captured on a satellite showing a N. Korean rocket launch.
The companies that made the list were Korea Mining Development Trading Corporation (KOMID), Korea Ryonbong General Corporation and Tanchon Commercial Bank. U.N. member nations that have dealings with those companies must now freeze their assets.
"KOMID is the DPRK's primary arms dealer and main exporter of equipment related to ballistic missiles, with offices in a number of foreign countries," said John Sawers, Britain's ambassador to the United Nations. "Korea Ryonbong General Corporation plays an integral role in the DPRK's import and export of military goods and equipment. And Tanchon Commercial Bank is the DPRK's main financial agent for the sale of conventional arms and ballistic missiles."
North Korea calls itself the DPRK -- the Democratic People's Republic of Korea.
A presidential statement from the Security Council on April 13 authorized the sanctions panel to update a 2006 resolution barring North Korea from launching ballistic missiles after Pyongyang launched what it said was a communications satellite after weeks of warnings from the West not to do so.
North Korea declared the launch successful, but U.S. officials said the missile's payload fell into the Pacific Ocean shortly after the launch.
Don't Miss
Japan, the United States and the United Kingdom had sought a new resolution imposing new sanctions on North Korea, but China and Russia -- permanent members of the Security Council with veto privileges -- blocked the way.
Pak Tok Hun, North Korea's deputy U.N. ambassador, said the committee's action was "a wanton violation of the United Nations charter as relevant to outer space."
"It is the inalienable right of every nation and country to make peaceful use of outer space," he said. "That's why we totally reject and do not recognize any sort of decision which has been made or will be made in the Security Council."
Baki Ilkin, the Turkish ambassador and chairman of the sanctions committee, told reporters that the committee had also "agreed to update a lengthy list of items, materials, equipment, goods and technologies whose import to and export from the DPRK are prohibited."
"This update includes some of the latest technologies relevant to ballistic missile programs," he said.

Pak was dismissive of all the United Nations' recent moves.
"The recent actions of the Security Council concerning the peaceful use of outer space by my country shows that, unless the Security Council is totally reformed and democratized, we expect nothing from it," he said.
E-mail to a friend

All About North Korea • World Politics • Diplomacy • Nuclear Proliferation