(CNN) -- In Killing Fields: Long Road to Justice," CNN sheds new light on atrocities committed in Cambodia during the Khmer Rouge regime of 1975-1979.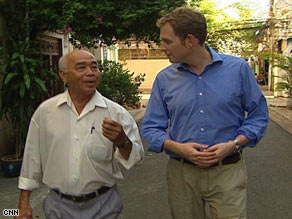 Vietnamese ex-television cameraman Ho Van Tay talks to CNN's Dan Rivers.
In a groundbreaking new documentary CNN's Dan Rivers goes on the hunt for Ta Chan, the chief interrogator of the Khmer Rouge's notorious S-21 prison camp. For the program, CNN obtained exclusive and previously unseen footage of Ta Chan giving a tour of another Khmer Rouge jungle prison. CNN's Rivers also details corruption allegations at the Phnom Penh trial of Khmer Rouge leaders, reporting on prosecution and defense fears that the trial will be tainted by the allegations.
As S-21 commandant Comrade Duch and four Khmer Rouge colleagues currently face justice in the UN-backed trial, Ta Chan continues to live in a remote Cambodian village. While he has not been charged with any crime, survivors say Ta Chan played a key role at S21.
Rivers speaks with Chan's family as the alleged former torture chief hides from cameras. In exclusive footage from 1996, uncovered by the program's editorial team, Ta Chan gives a guided tour of what he said at the time was a recently closed Khmer Rouge prison in the jungle. The documentary chronicles in painful detail how torture was part of S-21's daily regime, resulting in up to 14,000 deaths.
The program also features rarely seen footage from 1998 of the last known TV interview with ailing Khmer Rouge leader Pol Pot, who led the country into the horrors of genocide.
Airtimes
May 1: 3 a.m. GMT
May 2: 8:30 a.m., 5 p.m., 10:30 p.m. GMT
May 3: 2:30 p.m. GMT
May 4: 2:30 a.m. GMT
E-mail to a friend