(CNN) -- Thousands of civilians remain trapped and at risk in a small area of the conflict zone along the northeastern Sri Lankan coast, the International Committee of the Red Cross said Thursday.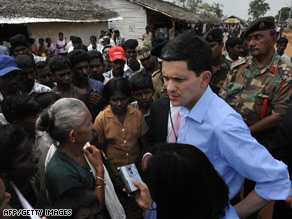 UK Foreign Minister David Miliband talks to displaced Tamil civilians at a camp in north Sri Lanka Wednesday.
The civilians include women, children, and elderly, and many are wounded and sick, the ICRC said in a statement.
"The parties must do more to protect them and must allow more food and medicine into the area," said Monica Zanarelli, the ICRC's deputy head of operations for south Asia.
A Red Cross-chartered ferry brought 30 tons of food to the conflict area Tuesday, the ICRC said. The U.N.'s World Food Programme had donated the food to the Sri Lankan government.

Watch as civilians remain at risk »
The ICRC said it evacuated 520 people from the conflict area on Wednesday. Since early February, when the conflict escalated, the aid agency has evacuated close to 12,400 people -- the sick and wounded, along with their relatives, the ICRC said.
The Sri Lankan government believes about 10,000 to 15,000 civilians remain trapped in the conflict zone, defense spokesman Keheliya Rambukwella said Wednesday.
He said the government continued to try to rescue the trapped civilians and had curtailed its use of heavy weapons and air raids as a way to protect them.
Sri Lanka has rejected international calls for a cease-fire with Tamil Tiger rebels, saying such a move would only allow the rebels to regroup. The Tiger leadership proposed a cease-fire last week.
Since Tuesday, Sri Lankan troops have advanced further on rebel-held territory, the Ministry of Defense said on its Web site. The troops have managed to reduce the size of the rebels' land to 7 square kilometers (4.3 square miles), the ministry said.
Rebels say the size of the strip is even smaller, according to the rebel Web site, Tamilnet.com.
Troops killed more rebels Wednesday and continued their rescue operations despite a string of rebel suicide bombings in the past two days, the military said.
Rebels expect the Sri Lankan army to launch an offensive "any time soon," according to a report on Tamilnet.com. They also accused the government of failing to stick to its promise to avoid the use of heavy weapons.

"Heavy 100-millimeter cannon fire and machine gun fire from naval craft of the Sri Lanka Navy already began around 4:00 p.m.," said the report, posted Wednesday evening. "A total of 300 are feared killed in the latest use of heavy weapons."
The Tamil Tigers have been fighting for an independent state in Sri Lanka's northeast since 1983. As many as 70,000 people have been killed since the civil war began, and the group has been declared a terrorist organization by 32 countries, including the United States and the European Union.
E-mail to a friend

All About Sri Lanka • Liberation Tigers of Tamil Eelam