By Barbara Starr
CNN Pentagon Correspondent





WASHINGTON (CNN) -- Up to 50 people were killed Tuesday in U.S. airstrikes on buildings in an Afghan area frequented by insurgents, a senior U.S. military official told CNN on Friday.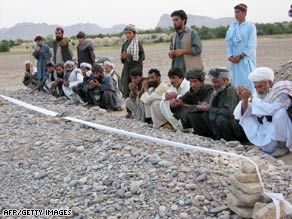 Villagers pray at a mass grave this week after an airstrike in Afghanistan's Farah Province.
However, Afghan President Hamid Karzai said the death toll was higher, telling CNN's Wolf Blitzer that more than 100 people were killed.
"I got different word from the government this morning that there were more than 100 casualties, nearly 125 to 130 civilians lost ... and that it was done by the bombings," he said.
Asked whether the bombings were done by the U.S., Karzai said yes.
"The airstrikes are not acceptable," he said. "This is something that we've raised in the Afghan government very clearly, that terrorism is not in the Afghan villages, not in Afghan homes. And you cannot defeat terrorists by airstrikes."
He added, "We cannot justify in any manner, for whatever number of Taliban, for whatever number of significantly important terrorists, the accidental or otherwise loss of civilians."
Karzai said he had told President Barack Obama his views on the airstrikes.
"President Obama was very nice and kind to protract and extend his sorrows and apologies for these incidents," Karzai said.

Watch a report of the investigation into the civilian deaths »
The official, who has direct knowledge of the probe into the strike, said investigators believe among those who died were women, children and insurgents, who the United States believes were using the other two groups as shields. One mass grave has been found, the official added.
U.S. warplanes dropped about 13 bombs, including 500-pound and 1,000-pound bombs, on eight buildings in Farah province in western Afghanistan, the official said.
The buildings were located in poppy and wheat fields, and Afghan and coalition forces were taking fire from those buildings, the official said.

Watch Afghanistan's president discuss the airstrikes »
The military has been trying to destroy poppy fields, which are the source of most of the world's opium, to cut off funding to the Taliban and other insurgents.
The United States may never get a confirmed number of civilian dead because of the Islamic practice of quick burial. But since the airstrike, Afghan officials have been saying dozens of civilians were killed.
There have been repeated instances of civilian casualties from U.S. airstrikes, and the issue is becoming increasingly sensitive politically for Karzai's government.
The probe is a joint effort by U.S. and Afghan investigators.
Don't Miss
The question now for investigators, another senior U.S. military official said Tuesday, is how much information was available at the time of the strikes about the potential presence of civilians and whether those in charge should have known civilians might be in the vicinity.
In the past, the U.S. military has paid compensation to victims' families and leveled heavy public criticism against the Taliban for holding civilians at risk in conflict zones.
Karzai said Friday he would not ask for compensation.
"We don't demand those things," he said. "We don't demand compensations, we don't demand any other assistance for our civilians. We demand the proper (conduct) of operations. We demand an end to these operations."

U.S. Defense Secretary Robert Gates, traveling in Afghanistan on Thursday, expressed regret over the deaths.
"We regret any, even one, Afghan ... innocent civilian casualty. And we will make whatever amends are necessary," Gates said. "We all know that the Taliban use civilian casualties and sometimes create them to create problems for ... the United States and our coalition partners. We will have to wait and see what happened in this particular case."
E-mail to a friend

All About Afghanistan • Hamid Karzai • Hillary Clinton