LONDON, England (CNN) -- A pregnant British woman jailed in Laos has met with a British lawyer for the first time ahead of her impending trial, a UK legal aid charity said Wednesday.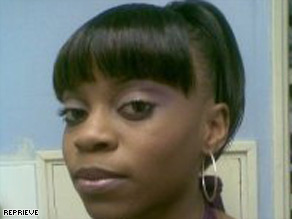 Briton Samantha Orobator has been jailed in Laos since August on a drug charge.
Samantha Orobator, 20, has been in a Lao prison since August. She had no legal representation until last week, when the Lao government appointed her a local lawyer.
Her trial is expected to happen sometime this week.
Legal charity Reprieve sent a lawyer to Laos to offer independent legal advice to Orobator, who is five months pregnant. That lawyer, Anna Morris, finally met with Orobator on Tuesday, the charity said Wednesday.
The meeting was not in private, however, and was also attended by 10 members of the Lao government, including some senior officials.
"Samantha was at the head of a large table and I was not able to sit next to her or speak to her really directly, and certainly not confidentially," Morris told a London news conference Wednesday from Laos. "Despite during that meeting pressing for a further meeting in a private context, it became clear to us that this was really the only access we were going to be given before the trail took place."
Morris said Lao officials told her the trial was "prepared" but they had not yet given a date. She said the British Foreign Office was told it would be given 48 hours notice of the trial.
Orobator was "clearly nervous" during the meeting and repeatedly asked when her trial would be held, Morris said.
"What we hope does not happen is that the Lao government delays matters further," Morris said. "That clearly is putting a lot of undue stress on Samantha during her pregnancy. She told me yesterday that she was anxious and that the baby was excited and kicking."
Orobator was detained at Vientiane's airport last August for allegedly carrying about half a kilogram of heroin. The charge can carry the death penalty, but Lao officials have said that does not apply to pregnant women.
Orobator became pregnant in prison, possibly as the result of rape. That, coupled with the poor conditions of Lao jails and the nature of the Lao justice system, has prompted the British government and charities to voice concerns about her case.
"To say they are basic would be an understatement," Piers Bannister, the head of the death penalty team at Amnesty International, said about Lao prisons.
Prisons in Laos lack rudimentary medical care as well as a decent diet -- both of which are important for pregnant women, he said. Prisoners often don't get enough food and it is not nutritionally balanced, he said.
"We have very great concerns about the fact that she is pregnant," Bannister added. "How did that happen?"
Orobator's mother, who lives in Dublin, was due to arrive in Laos Wednesday, said Clare Algar, the executive director of Reprieve. The charity hopes her presence will have some impact on Lao authorities, perhaps influencing them to schedule a trial more quickly, Algar said.

Britain and Laos signed a prisoner transfer agreement last week that would allow Orobator, if she is convicted, to serve out any sentence in Britain.
"We are hopeful that Samantha will be given a trial reasonably soon and then that she either will be released without charge or that she'll be sentenced to a short term of years and would then be able to transfer to the United Kingdom to serve that term and therefore be in the United Kingdom when she gives birth," Algar said.
E-mail to a friend

All About Laos • Drug Trafficking