NEW DELHI, India (CNN) -- "Slumdog Millionaire" leaves audiences uplifted. But that is hardly how one of its child stars felt on Thursday.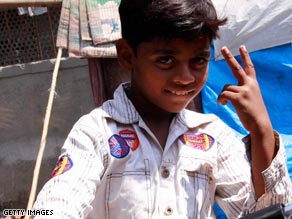 Indian authorities demolished the home of "Slumdog Millionaire" child actor Azharuddin Mohammed Ismail.
Despite the hit movie's mega-millions in box-office receipts, Azharuddin Mohammed Ismail's life changed little after he returned home to Mumbai, India's, Garib Nagar, or city of the poor.
On Thursday, even the roof over the real-life slum dweller's head was taken away as Indian authorities tore down the shanty where Ismail's family lived.
Authorities said the home and about 20 others around it were illegally built.
Senior Inspector Rahim Sheikh told CNN that the shanties were brought down as part of a municipal drive to clear encroachments on public land. Bulldozers leveled the slum built on a municipal garden, said Sheikh, who is in charge of the locality in Mumbai where Ismail lived.
Don't Miss
The little boy sat among twisted corrugated metal and other debris, surrounded by filth and squalor. Memories of Hollywood's glitz and glitter were distant as tears streamed down his face.

He said his family was given no notice of the demolition and did not have time to remove their belongings. But, they said, they plan to return and rebuild.

Watch 'Slumdog' actor's home razed. »
"Slumdog Millionaire" is the story of Jamal, an impoverished, uneducated teen who competes on an Indian game show. Ismail, who played a young Jamal's brother, Salim, traveled to Los Angeles, California, in February for this year's Academy Awards, where the movie won eight Oscars, including best picture.
E-mail to a friend

CNN's Sara Sidner contributed to this story.