From Charley Keyes
CNN





WASHINGTON (CNN) -- U.S. Secretary of State Hillary Clinton said Thursday that North Korea's announcement of a trial date for two American journalists could signal that their detention will be resolved soon.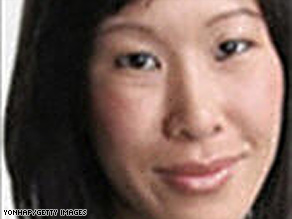 Laura Ling was taken into custody March 17 along the China-North Korea border.
"Actually the trial date being set we view as a welcome timeframe," Clinton said. "We believe the charges are baseless and should not have been brought and that these two young women should be released, immediately. But the fact they they are now going to have some process we believe is a signal that there can be, and I hope will be, a resolution as soon as possible."
The American journalists -- Laura Ling and Euna Lee -- will be tried in a North Korean court on June 4, Pyongyang's official news agency said Thursday.
The two reporters for San Francisco-based Current TV are accused of entering the country illegally and intending "hostile acts." Ling and Lee were taken into custody March 17 along the China-North Korea border.
Groups representing journalists have lashed out at North Korea for detaining the two reporters. The International Press Institute last month called on North Korea to "immediately free journalists who are being used as apparent political hostages in (North Korea's) wider diplomatic disputes with the United States."

Watch more on the journalists »
On another subject regarding the country, Clinton said Thursday that U.S. allies were united in the belief that the U.S. needs to be patient awaiting North Korea's return to the so called six-party talks aimed at dismantling North Korea's nuclear program.

"The ball is in the North Korean court," Clinton said. "We are not concerned about chasing after North Korea, offering concessions to North Korea. They know what their obligations are. They know what the process is, and we are all urging they return and begin once again to act with us to move the agenda forward."
Clinton this week met with her special envoy on North Korea policy, Stephen Bosworth, after his return from Asia.
E-mail to a friend

All About North Korea