Fareed Zakaria is a foreign affairs analyst who hosts "Fareed Zakaria GPS" on CNN at 1 and 5 p.m. ET Sundays.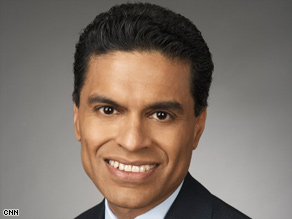 Zakaria says he has some doubts about the focus of Pakistan's armed forces.
(CNN) -- A Taliban spokesman issued threats and ultimatums against Pakistani officials this week, as the country's military continued its offensive against the militant group in the Swat Valley.
Speaking with CNN on Wednesday, Muslim Khan announced that all national and provincial parliament members from the Malakand Division, the northwestern region where the Swat Valley is located, must resign within three days. "Otherwise, we will arrest all their families," Khan threatened, "and we will destroy all their buildings."
As the Pakistani offensive continued against the Taliban, Fareed Zakaria interviewed the nation's former president, Pervez Musharraf, for his show Sunday. Musharraf is a former chief of the Pakistan Army who took power in a 1999 coup and stepped down as the nation's president under pressure last summer.
Zakaria discussed the challenges facing Pakistan with CNN.
'Fareed Zakaria GPS'
Fareed sits down with former Pakistan Pres. Pervez Musharraf this week on "GPS."
1 and 5 p.m. ET Sunday

CNN: Will Pakistan's push against the militants in the Swat Valley and surrounding areas succeed?
Fareed Zakaria: It will certainly succeed in a short-term military sense. But it will produce massive displacement of people, chaos and instability, and these are the forces that in the medium term tend to help thugs and militants stay powerful. People will despair of both the Army and the Taliban, which is a bad outcome. Proper counterinsurgency involves narrower operations, less collateral damage and most important, staying and holding the territory that you win.
CNN: Why is the Pakistani military still not capable of counterinsurgency?
Zakaria: Because they see their main enemy as India, and their forces are largely trained and equipped to deal with that threat. They have never fully embraced the view that their existential threat lies not in the east but in the west.
CNN: What about the argument that the military actually helps these groups?
Zakaria: Take a look at the book by Husain Haqqani, "Pakistan: Between Mosque and Military." In it, he writes that Pakistan's military world view is that it is surrounded by dangers and needs to be active in destabilizing its neighbors through the tacit support of militant organizations.
CNN: Do you think it is true?
Zakaria: While President Musharraf broke with the overt and large-scale support that the military provides to the militant groups, and there have continued to be some moves against some jihadists, there is no evidence of a campaign to rid Pakistan of these groups. The leaders of the Afghan Taliban, headed up by Mullah Mohammed Omar, still work actively out of Quetta.
The Army has never launched serious campaigns against the main Taliban-allied groups led by Gulbuddin Hekmatyar or Jalaluddin Haqqani, both of whose networks are active in Pakistan. The group responsible for the Mumbai attacks, Lashkar-e-Taiba, has evaded any punishment, morphing in name and form but still operating in plain sight in Lahore.
Even now, after allowing the Taliban to get within 60 miles of the capital, the Pakistani military has deployed only a few thousand troops to confront them, leaving the bulk of its million-man army in the east, presumably in case India suddenly invades.
CNN: You spoke with the former president on your show this week. Did you raise these thoughts?
Zakaria: Yes, I did, and he vigorously contested them. He is a proud and loyal soldier of the Pakistani army, first and foremost. When I asked why they focused on the threat from India instead of the Taliban, he responded that we are being a bit patronizing: "We must not try to teach Pakistan army where is the threat coming from. They analyze things. They have conferences. They take very, very deliberate decisions. We know when the threat is down and when it is up, and they take action accordingly."
And he also indicated that the military is committed to going after militants in Pakistan. "We are going after them. And we are doing our best. Now that is what needs to be underscored here. We are doing our best, but maybe there is a difference of opinion on how we need to handle tactical."

Watch more of the Musharraf interview »
CNN: And are they doing their best?
Zakaria: I still have my doubts that they are fully focused and willing to turn their backs on all militant groups. But the former president was passionate about the positive role of the army and the Pakistani intelligence service in Pakistani society, saying, "The world is lucky that we have this army and the ISI. Now, instead of weakening them, abusing them, criticizing them, we must strengthen them. Because if they don't deliver, who else is going to deliver? We'll all fail. So, therefore, don't criticize the ISI and army. They are suffering with all this and yet going ahead."

I hope you will watch and see if you believe what he says or not.
E-mail me at gps@cnn.com to let me know your thoughts.
E-mail to a friend

All About Pakistan • Pervez Musharraf • The Taliban