HONG KONG, China (CNN) -- Nobel laureate Aung San Suu Kyi will be joined by her two housemaids and an American man who swam to her house when she confronts two judges in a Myanmar jailhouse courtroom on Monday, one of her lawyers said.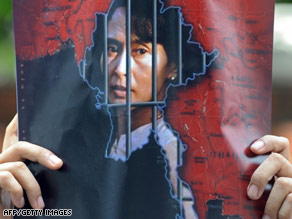 An activist holds a picture of Aung San Suu Kyi in front of the Myanmar embassy in Bangkok, Thailand, on Sunday.
The four face trial for an incident in which American John William Yettaw allegedly swam across a lake and stayed for two days in the pro-democracy icon's closely guarded residence, where she is under house arrest.
The government has charged the 63-year-old Suu Kyi with breaking the conditions of her house arrest by allowing Yettaw into her home.
The government detained her at the Insein Prison compound under Section 22 of the country's legal code, a law against subversion of the government. If convicted, Suu Kyi could face three to five years in prison.
Two judges will hear the case without a jury against Suu Kyi, Yettaw and the two housemaids, said Jared Genser, a Washington, D.C.-based lawyer who is one of the attorneys representing Suu Kyi. He added that 22 witnesses will be called at the proceedings. The length of the trial is "anybody's guess," Genser said, but he believes it could last between several days to six weeks.
The 1991 Nobel peace Prize winner remains defiant, Genser said.
Don't Miss
"Frankly, she does not believe she did any offense." The defense will argue that Yettaw entered Suu Kyi's home due to poor government security, Genser said.
"I believe the responsibility falls squarely on the government to ensure the security at her house."
Insein Prison houses many political prisoners, Genser said, and the conditions are poor for even a young, healthy person. Tuberculosis is rampant, the lawyer said, adding that mosquitoes and other insects are numerous. Nighttime temperatures at the prison frequently reach 85-90 degrees Fahrenheit (29-32 Celsius) with no fresh air traveling through the facility.
"There is deep reason to be concerned with her detention," Genser said. "Insein is a notorious prison. It is filthy."
"It will be highly uncomfortable. When you combine that with her health concerns, it is very worrying."
"Unfortunately the outcome is predetermined," Genser said, adding that he fears Suu Kyi will be convicted. Myanmar's Article 22 states that people found guilty of violating the terms of house arrest must be jailed.

Appeals are technically possible, Genser said, "but practically, there's no real chance."
"The real question is how is the international community going to respond?"
E-mail to a friend

All About Myanmar • Aung San Suu Kyi