By Ivan Watson
CNN





ISLAMABAD, Pakistan (CNN) -- The Pakistani government convened a meeting on Monday of nearly all of the country's political parties, in an effort to consolidate broad national support for its military operation to crush Taliban militants in Pakistan's northwestern Swat Valley.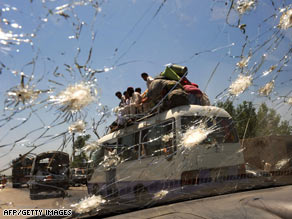 Pakistani civilians flee to camps for the internally displaced in Mardan district on May 15, 2009.
The leaders of 42 political parties were expected to attend the All Party Congress in Islamabad, the capital.
Meanwhile, fierce fighting continued in Swat on Monday -- 27 Taliban fighters were killed, including three commanders, along with three Pakistani soldiers, said Maj. Gen. Athar Abbas, a spokesman for the Pakistani military.
In a separate move to pressure the Taliban, hundreds of Muslim clerics gathered in Islamabad on Sunday to issue a unanimous declaration that denounced the militants' violent tactics.
"Suicide attacks and beheading is haram," the resolution said. "Haram" means forbidden according to Islam.
National consensus is critical for the military offensive to succeed, said a senior foreign diplomat stationed in Islamabad. Speaking on condition of anonymity, the diplomat singled out Mian Mohammed Nawaz Sharif, leader of the PML-N party and the most powerful political rival to Pakistani President Asif Ali Zardari, as saying that without Sharif's support, the anti-Taliban campaign would be doomed.
Sharif was at Monday's All Party Congress.
The Pakistani military mounted its first assault on al Qaeda and its Taliban allies in tribal areas along Pakistan's mountainous border with Afghanistan in 2004.
There have since been a number of military offensives against the Taliban, with questionable results. The attacks have displaced hundreds of thousands of Pakistanis and done considerable damage to homes and infrastructure.
The Taliban has extended its area of control from the border all the way to the district of Buner, just 100 kilometers (60 miles) from the Pakistani capital. The military attacked Taliban fighters in Buner late last month. As of Sunday, troops were still battling to dislodge insurgents from parts of Buner, according to Pakistani military spokesmen.
The top U.S. military commander told the Senate Armed Services Committee last week that it was too early to pass judgment on Pakistan's most recent military offensive.
"My biggest question about these operations is their ability to sustain them over time," said Adm. Mike Mullen, chairman of the Joint Chiefs of Staff. "Historically, they haven't done that."

The United Nations says the fighting has forced more than 1 million Pakistanis to flee their homes in the northwest of the country since May 2.
Prime Minister Yusuf Reza Gilani, addressing the All Party Congress on Monday, said, "The army will remain in these areas until the displaced people can return to their homes, and until peace is established."
E-mail to a friend

All About Pakistan • The Taliban • North-West Frontier Province • Al Qaeda