ISLAMABAD, Pakistan (CNN) -- Nearly a half-billion dollars in "urgent contributions" are needed, the United Nations said Friday to aid displaced Pakistanis whose numbers are nearing 2 million.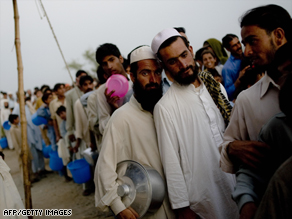 Displaced civilians line up for a meal at Chota Lahore camp in Swabi district.
More than $450 million is needed to meet the overall appeal for $543 million, the U.N. refugee agency said.
It added that almost $86 million has been provided or committed, so far.
Pakistan recently secured pledges from international donors for billions of dollars worth of aid to bolster the government of President Asif Ali Zardari.
Tuesday, U.S. Secretary of State Hillary Clinton announced that Washington would rush an additional $110 million in humanitarian assistance to help the Pakistanis who have been forced to flee their home as the Pakistani military confronts Taliban militants in northwestern Pakistan.
Two American military cargo jets arrived at an airbase close to the Pakistani capital Wednesday, carrying air-conditioned tents and pre-packaged meals.
Meanwhile, Britain pledged an additional £10 million Friday, for a total of £22 million ($35 million), to address the humanitarian situation in Pakistan.
The refugee crisis could pose a bigger threat to stability in Pakistan than the war itself, U.N. High Commissioner for Refugees Antonio Guterres told CNN while touring a refugee camp in the nearby Swabi district last week.
Only about 200,000 of the estimated 1.7 million Pakistanis displaced since May 2 are staying in camps, UNHCR said Friday. The rest are staying with families and friends or in schools and other communal buildings.
The Pakistani government has been working with international aid agencies to establish camps for refugees, where tents, food, water and basic medical services are provided. But the scale and speed of the displacement -- said to be the worst since the Rwandan genocide in 1994 -- have overwhelmed aid workers, Guterres said.
"The scale of the problem is such that all our resources combined cannot cope with it. And it's very important for this population not to feel abandoned," Guterres said.
"Without massive support of the international community for the Pakistani people, this will become a very dramatic problem, and not only a humanitarian problem."
Meanwhile, a parked car bomb detonated near a crowded cinema in Peshawar, Pakistan on Friday, killing at least 10 people and wounding more than 70, the city's police chief said.

Watch more about the blast »
Some 300 to 400 people were inside the cinema in the Khyber Bazaar area of Peshawar when the car bomb detonated, police chief Sifat Ghayoor said.
The impact of the blast caused massive destruction to the multiple-story building. Video showed crowds of men gathered in the street as smoke and dust clouded the sky above.
The casualties, all civilians, include cinema employees and young people, he said. Many are in critical condition, a hospital official told CNN.

Peshawar is the capital of North West Frontier Province, which is part of an area of northwest Pakistan where the military has launched a massive operation against Taliban militants.
Pakistani officials say that only 2 percent of the North West Frontier Province remains under Taliban control as a result its ongoing military operation.
E-mail to a friend

CNN's Ivan Watson contributed to this report.
All About Pakistan • The Taliban • North-West Frontier Province • Al Qaeda