By Sohn Jie-Ae
CNN





SEOUL, South Korea (CNN) -- South Korea's government on Monday reacted harshly to Pyongyang's latest nuclear test.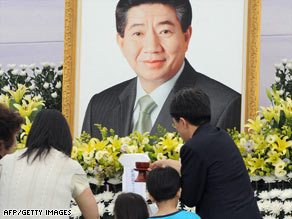 Mourners on Monday visit a memorial to ex-South Korean President Roh Moo-Hyun in a village southeast of Seoul.
President Lee Myung-bak convened an emergency meeting of his national security council, and there were strong words for North Korea afterward.
Pyongyang has ignored repeated warnings by the South Korean government and the international community, presidential spokesman Lee Dong-kwan said.
"The nuclear test is a serious threat to peace and security on the Korean Peninsula, in Northeast Asia and in the world. It is also a serious challenge to the international nonproliferation program," the spokesman added.
But elsewhere in Seoul, people were more preoccupied with the suicide of former South Korean President Roh Moo-Hyun over the weekend.
On the streets, people were far more willing to talk about his death rather than the underground nuclear bomb test.
One office worker said all she and her co-workers had talked about all day was the suicide. She had heard the news about the nuclear test, but it was really not on her mind, she said.
Don't Miss
There was even a sense of betrayal among some South Koreans that their neighbors in North Korea would choose this time, when South Korea was in mourning, to conduct such a nuclear test, especially when Roh, the former president, was considered a friend of North Korea.
The timing of the test, less than two months after the last one, matched the concern among some analysts in Seoul that North Korea would ratchet up tensions on the Korean Peninsula and that it would do so step by step.
The first step was what the outside world believes was a missile test, though North Korea said the April 5 event was the launch of a communications satellite.
Then Pyongyang waited to see what the reaction was from the rest of the world, especially from Washington, analysts say.
It seems that North Korea was not satisfied with what it got from Washington. The United States did not offer to return to the negotiating table in a bilateral format, which is what North Korea wants, so Pyongyang needed to ratchet up tensions once again. Monday's test may have been the next step about which analysts were concerned.
Whether North Korea takes another step will also depend on how the world reacts and how Pyongyang sees it.
E-mail to a friend

All About South Korea • North Korea • Roh Moo-hyun • Nuclear Weapons