By Nicolai Hartvig
For CNN





SEOUL, South Korea (CNN) -- North Korea's largest-ever nuclear test had little impact on a South Korean people fraught with sorrow and recrimination following the suicide of their former president, according to media and bloggers here on Tuesday.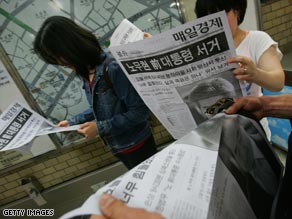 Nuclear blasts haven't dislodged former president Roh's suicide from the top headlines in S. Korea's media.
South Koreans were puzzled by the timing of the Monday morning blast, which came only hours after North Korean leader Kim Jong Il sent his condolences for the death of Roh Moo-Hyun.
On the fourth official day of mourning, tens of thousands of people continued to visit memorial shrines for Roh, laying white chrysanthemums in a traditional show of grief and leaving cigarettes on the altars to remember a man who was reported to have taken up smoking during the investigation.

Watch how South Koreans are mourning Roh »
News reports about Roh's death continued to top the "most read" counters of South Korea's newspapers and Web sites.
"Nuke test had nothing to do with South Korea," wrote the Dong-A Ilbo, arguing that although the North may have wanted to steal the South's spotlight following Roh's death, the nuclear test was aimed at the U.S. and could ultimately help President Lee, drawing attention from allegations that pressure from the government pushed Roh to suicide. Read full story
"Preserving the regime is critical to the North Koreans," Yun Duk-min, a professor at the Institute of Foreign Affairs and National Security, was quoted as saying in the Joongang Ilbo. "Whatever goes on in the South is not really a factor in making a decision to conduct a nuclear test. There is no time for niceties." Read full story
The debate over Roh's suicide continued to dominate. The conservative Chosun Ilbo urged South Koreans to remember the words of the former president's suicide note.
Don't Miss
"Roh's abrupt death brings home how vain the rise and fall of power is and how futile it is to nurse hatred and conflict in pursuit of them. Roh himself said in his will, 'Aren't life and death both part of nature? Don't blame anybody.' He would not have wished his own death to cause more political confusion and social conflict," the newspaper wrote in an editorial.
It also criticized prosecutors who "seem to have worried about public consensus rather than focusing on principles." Read full story
The left-leaning Hankoryeh called Roh's death "political murder," echoing the widespread feeling that the former president paid too high a price for his alleged crime.
"The case of late President Roh was the most unfortunate in South Korean history, brought about by the Lee Myung-bak administration, which despised the person more than the crime," the newspaper wrote in an editorial. Read full story.
The mood on South Korea's influential blogs and message boards was somber and split between messages of comfort, dismay at Roh's decision to end his life and angry accusations against prosecutors and the government.
"President Roh's perseverance to provide Korea with a true democracy has come to a sudden end. We saw the grief of his demise in the eyes of millions of Koreans," read a message posted on the popular Daum Agora Web portal.

"Prosecutors and the police! Are you the people of the Republic of Korea?," asked another.
Some echoed an obituary in the Chosun Ilbo, saying that to Roh's final challenge, "Death was his answer."
E-mail to a friend

Nicolai Hartvig is a freelance journalist based in Seoul